STEM-HEAR: First cohort of students with hearing loss conducts summer research at Johns Hopkins
July 27, 2018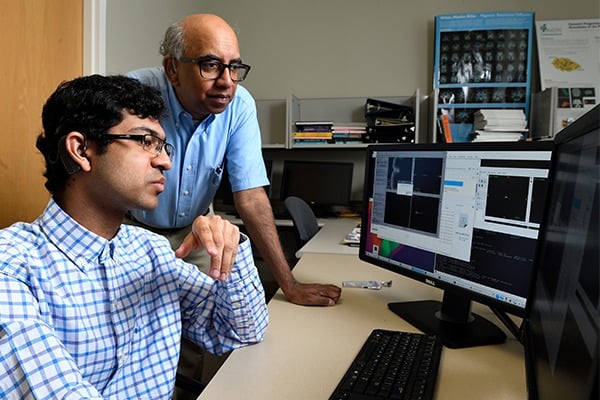 Prior to his second birthday, Rachit Kumar's parents learned that he was deaf. A cochlear implant in the toddler's right ear opened up a new and stimulating world. Still, as Kumar grew up, he often felt different from his hearing peers, and quickly developed strategies to cope with his hearing loss.
For instance, he arranged simple accommodations, such as sitting at the front of classrooms and printing out his notes before class. Kumar credits his current academic success to his problem-solving skills. "I learned early on in my life how to face challenges, and I also made sure to stay positive about learning even though the environment wasn't always fun for me," said Kumar. "I was fortunate to go to a public school where the teachers were extremely supportive, and they helped me stay motivated. Not all people with hearing loss have that kind of support."
As a second-year biomedical engineering major at the Georgia Institute of Technology, Kumar developed a passion for computer science, math, engineering, and medicine. He is grateful to the medical and scientific communities for developing the cochlear implants that enabled him to hear, and wants to give back to these communities through his own clinical research in the future. With the hope of narrowing his research interests, he accepted a summer internship at the Johns Hopkins University working in the lab of Tilak Ratnanather, associate research professor of biomedical engineering.
Ratnanather, who himself has profound hearing loss, is on a mission to bring more deaf and hard-of-hearing students into science, technology, engineering, and math (STEM) fields. Since the early 2000s, he has been connecting with such students through the Alexander Graham Bell Association for the Deaf and Hard of Hearing, serving as a mentor to dozens of high school and undergraduate students from around the country. In 2015, then-President Barack Obama recognized Ratnanather's efforts by awarding him the Presidential Award for Excellence in Science, Mathematics, and Engineering Mentoring (PAESMEM).
More recently, Ratnanather has partnered with the Johns Hopkins School of Medicine Summer Internship Program to provide students with hearing loss opportunities to gain advanced, hands-on experience in STEM disciplines. This year, he launched the STEM-HEAR initiative (STEM for students with Hearing loss to Engage in Auditory Research), forming a cohort of five college students, including Kumar, to conduct summer research in auditory science and engineering labs across the Johns Hopkins schools of Medicine and Engineering.
"When these students go to college, they may be the only ones there with hearing loss. It is quite common for them to experience anxiety related to what we call 'imposter syndrome,'" said Ratnanather. "Students with cochlear implants sometimes struggle to truly be a part of the hearing world, but they really don't feel like part of the deaf world either."
Ratnanather says students with hearing loss must do three things to succeed in academia: they must recognize that support is available, understand what to do with that support, and find the motivation to keep going despite obstacles. The STEM-HEAR program was designed to provide students with important tools for career development, including mentorship, networking, and research experience.
"I consider myself lucky to have gone through these barriers when I was very young," said Kumar. "There are certainly people who have to face them later in life and that can be challenging."
This summer, Kumar is developing new methods to distinguish the different layers of cortex from one another in images of the brain. Different types of brain images, such as MRI scans, reveal unique features of the cortical layers, so Kumar is applying computational approaches to combine data from multiple image sources for a more detailed representation of the brain and its structures. By accurately segmenting the regions of the brain, Kumar and his colleagues hope to identify the structural differences associated with various neurological disorders, such as deafness, to improve the diagnosis and treatment of these conditions.
"It's beneficial for these students to conduct research in the world of auditory science because it helps them understand their own hearing loss," said Ratnanather. "It's a multidisciplinary subject. They study the biological, mathematical, physical, engineering, and chemical aspects of hearing loss, and it's the perfect entry point into STEM."
In addition to their research, the summer interns participated in other SIP programming for career development, including the Johns Hopkins Career, Academic, and Research Experiences for Students (CARES) Summer Symposium, held July 26 at the School of Medicine campus. At the CARES symposium, Kumar and his fellow interns presented their poster on a project that they worked on together under Ratnanather's guidance. Aspiring to make "mainstream" college more accessible to students with hearing loss, the interns developed ways of using automated captioning that would allow students to access new learning methods.
"Ultimately, I want deaf students to know that they do not need to go to special colleges," said Ratnanather. "These students have every right to be exposed to the best professors out there."
Ratnanather is planning to expand the STEM-HEAR initiative over the next several years with Amanda Brown, associate professor of neurology at Johns Hopkins. Supported by the National Institute of Health, the two will launch a new five-year program to mentor underrepresented minority students, including those with hearing loss, throughout the year and provide them with summer research opportunities. Ratnanather hopes to support six students with hearing loss starting next year, and plans to collaborate with colleagues at other institutions to establish similar programs nationwide.
Other students in the STEM-HEAR internship cohort include Yasmeen Alshabasy from Wesleyan University, Samuel Bidwell from Wesleyan University, Garrett Brown from the University of Florida, and Anne Rojona Feliciano from the University of Miami.
-Sarah Tarney