Meet the BME summer student researchers: Anne Rojona Feliciano
July 28, 2018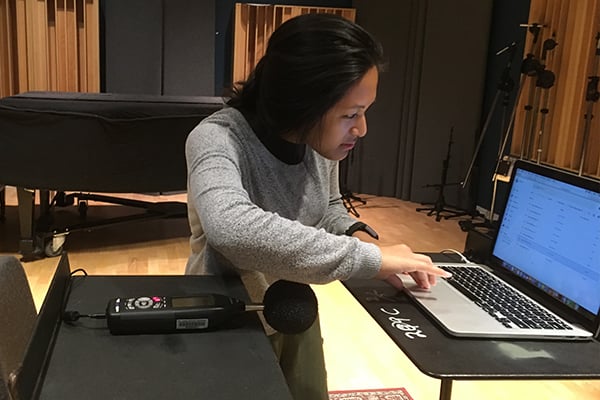 Each summer, approximately two dozen high school and undergraduate students join the Johns Hopkins Department of Biomedical Engineering for the opportunity to gain hands-on research experience under the mentorship of our pioneering faculty. Meet Anne Rojona Feliciano, one of five undergraduate students with hearing loss who will conduct research in Johns Hopkins auditory science and engineering labs this summer as part of the STEM-HEAR initiative spearheaded by Tilak Ratnanather, associate research professor of biomedical engineering.
Name: Anne Rojona Feliciano
Hometown: Manila, Philippines; raised in Dumont, New Jersey
School: University of Miami
Mentor: Amir Manbachi, lecturer of biomedical engineering
Can you tell us about yourself?
I am an optimistic person who is a firm believer in living in the moment and eating well. Outside of doing research and attending school, I enjoy trying different cuisines, going to new places, and dancing.
Why are you interested in pursuing research this summer?
I am interested in pursuing research this summer because I am currently on a master's or PhD track, and I am applying to graduate schools this fall.
Can you describe your research project?
I am helping to develop a low-contact hearing screening tool that can be used in an open-air environment. We are currently developing an Android software application that functions as a tone generator, and acoustically validating its tones in an open-air environment.
What do you hope to learn or gain from this experience?
I hope that this research experience helps me narrow down my research interests, and gives me insight to what graduate school would be like.
What are your plans for the future?
My plans include working on auditory research in graduate school or working in the biotech industry. 
How has your hearing loss affected your educational experience?
Hearing loss has affected me as a student since the start of my academic career. I constantly have to look for ways for my school to accommodate me. In my experience, sometimes the hearing technology is outdated, useless, or inefficient, and private schools often do not accommodate people who are deaf/hard-of-hearing. Because hearing loss is a self-disclosed disability, hard-of-hearing students have to be strong advocates for themselves and for their disability.
How will your experience at Johns Hopkins this summer help you achieve your goals?
Not only has Johns Hopkins provided me with the necessary accommodations and a supportive environment, the university has also provided me with great mentorship. I would like to thank Dr. Tilak Ratnanather for being a great mentor and role model, and for always making sure I have the tools and resources I need. I would like to thank Ms. Cathy Will as well for putting together a summer internship program that has been an extremely valuable learning experience thus far.