Reversing the Loss of Sight
May 19, 2017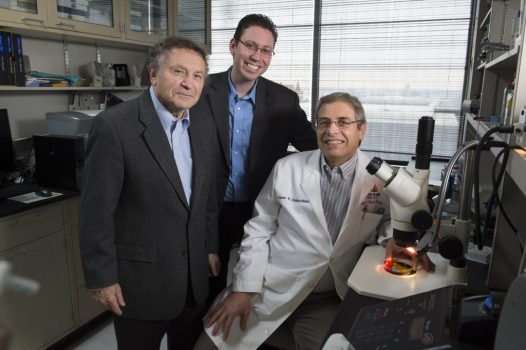 A novel peptide and drug delivery system developed by a trio of Johns Hopkins researchers is closer to improving vision care for millions of people who suffer from degenerative retinal diseases, such as wet age-related macular degeneration (AMD), diabetic macular edema, and diabetic retinopathy.
On the eighth floor of the Johns Hopkins Wilmer Eye Institute, the team—which includes biomedical engineering researchers Jordan Green and Aleksander Popel as well as ophthalmologist Peter Campochiaro, MD '78—meets biweekly to review progress on a new product that they say is on schedule to be evaluated in patients in a clinical trial in 2018.
Currently, patients with these degenerative eye diseases often receive monthly eye injections that do not sufficiently suppress abnormal blood vessel growth and the fluid leakage that clouds vision. These frequent injections are also uncomfortable and burdensome.
The new peptide-based medicine and delivery strategy offers two key advantages: First, the medicine appears to be more effective at halting and reversing the runaway blood vessel growth and leakage. Second, innovative delivery systems—including formation of a natural depot and novel biodegradable coatings—allow the medicine to stay in the eye longer, gradually delivering the peptide to the retina and, thus, greatly reducing the number of required injections.
"This treatment has the potential to improve the vision of patients with diabetic macular edema and wet AMD," says Green, an associate professor with joint appointments in biomedical engineering and in materials science and engineering, who was named by Popular Science as one of the nation's Brilliant 10 young scientists in 2014 and received the Presidential Early Career Award for Scientists and Engineers from President Obama in 2016.
In 2014, Popel and Green co-founded AsclepiX Therapeutics to commercialize their work on peptide-based therapies that hold the potential to treat degenerative eye disease and other ailments, including cancer. Campochiaro serves on the company's scientific advisory board.
-Mary Beth Regan