Pioneering young scientist Jordan Green receives two prestigious awards
March 21, 2016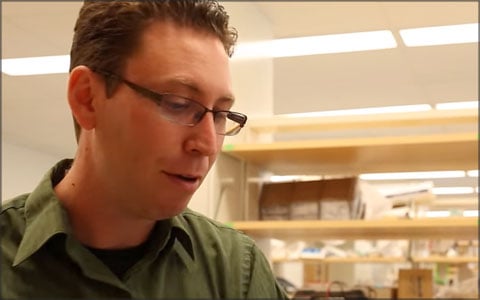 Jordan Green, associate professor of biomedical engineering, has recently been selected to receive two prestigious awards: the Presidential Early Career Award for Scientists and Engineers and the ASGCT Outstanding New Investigator Award. Both awards will be presented to Green at events in Washington, DC this spring.
Green studies biomaterials, drug delivery, gene therapy, and cell engineering. His research includes using tiny, biodegradable particles to teach the immune system to recognize and eliminate cancer cells. His investigations have led to improvements in the prolonged, time-delayed release of drugs and other therapeutic agents — and shows particularly promising results related to macular degeneration and cancers of the skin, liver, and brain.
2016 Presidential Early Career Award for Scientists and Engineers
Jordan Green was chosen to receive a Presidential Early Career Awards for Scientists and Engineers (PECASE) — the U.S. government's highest honor for scientists and engineers in the early stages of their independent research careers.
Awardees are selected for their pursuit of innovative research at the frontiers of science and technology and their commitment to community service as demonstrated through scientific leadership, public education, or community outreach.
When announcing the award winners President Barack Obama said, "These early-career scientists are leading the way in our efforts to confront and understand challenges from climate change to our health and wellness. We congratulate these accomplished individuals and encourage them to continue to serve as an example of the incredible promise and ingenuity of the American people."
ASGCT Outstanding New Investigator Award
Dr. Green has also been selected to receive the American Society of Gene & Cell Therapy (ASGCT) Outstanding New Investigator Award. The ASGCT selects nominated members to receive its coveted Outstanding New Investigator Award each year. This award recognizes "newly independent researchers who have made significant contributions to the field of gene and cell therapy."
Green will present his research at the ASGCT 19th Annual Meeting this spring.