Les Tung named interim director of the Department of Biomedical Engineering
June 1, 2015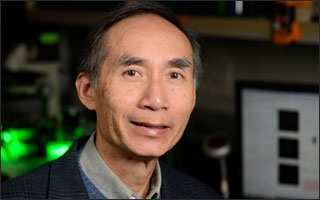 Leslie Tung, PhD, a highly respected senior member of the biomedical engineering faculty, has been named interim director of the Department of Biomedical Engineering, effectively immediately.
The appointment follows the decision by Elliot McVeigh, the Bessie Darling Massey Professor of Biomedical Engineering and director of the department, to step down from his position, effective June 1.
"It's a great privilege for me to serve in this role, especially given the wonderfully strong and vibrant spirit in the department," said Dr. Tung. "Together with the faculty and staff, we will continue to build on the tremendous success and accomplishments of the department set forth by the outgoing director, Dr. McVeigh."
In letters to faculty, Paul B. Rothman MD, Dean of the Medical Faculty, and Ed Schlesinger, Dean of the Whiting School of Engineering, thanked McVeigh for his dedicated service, leadership and impact and welcomed Tung as the new interim director. "Under Elliot's leadership, the Johns Hopkins biomedical engineering program continues to be a top-ranked biomedical engineering program in the country," they wrote.
Tung, professor and director of undergraduate studies in biomedical engineering since 2006, joined Johns Hopkins in 1986 as an assistant professor. His strong leadership and significant contributions to the educational programs in biomedical engineering have greatly enhanced students' training experience. Tung oversees the largest undergraduate major at Johns Hopkins University, with approximately 480 students in the program.
As principal investigator of the Cardiac Bioelectric Systems Laboratory, Tung and his team are currently studying heart cells derived from human pluripotent stem cells as potential models of physiological function and cardiac disease. He is especially interested in how they work together in a tissue context and manifest cardiac arrhythmias. He has authored or co-authored more than 86 peer-reviewed publications and has presented his work nationally and internationally. In 2013, he was awarded an investigator-initiated grant by the Maryland Stem Cell Research Fund.
Tung received his bachelor's and master's degrees in electrical engineering and a PhD in electrical engineering and computer science from the Massachusetts Institute of Technology.
"We are pleased that Les has agreed to serve as interim director to keep the biomedical engineering department moving forward during this transition," wrote Rothman and Schlesinger, in a joint letter to faculty and staff. "Please join us in congratulating Les and in supporting him as he takes on this important role."
Rothman and Schlesinger have developed a transition plan for interim leadership, and they plan to undertake a national search for a new director.