Jordan Green named 2015 AIChE NSEF Young Investigator Award winner
July 16, 2015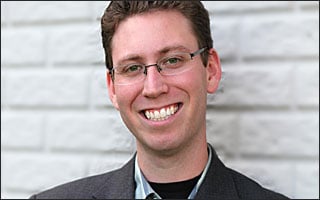 Department of Biomedical Engineering Associate Professor Jordan Green has been selected by the American Institute of Chemical Engineers (AIChE) Nanoscale Science & Engineering Forum (NSEF) as their 2015 Young Investigator Award winner. Dr. Green was selected for this honor based on his significant achievements to nanoscale science and engineering.
He will receive the award at the 2015 AIChE Annual Meeting scheduled to be held November 8–13, 2015 in Salt Lake City. Dr. Green will present an award lecture in the November 9th NSEF Plenary Session: Chemical Engineering Principles for Nanotechnology.
Leslie Tung, Professor and Interim Director of the Department of Biomedical Engineering commented, "This is wonderful news, and richly deserving."
Dr. Green's main research interests are applying chemical engineering principles to develop biomaterials and nanobiotechnology to meet challenges in human health. In addition to his role as Associate Professor of Biomedical Engineering, Ophthalmology, Oncology, Neurosurgery, and Materials Science & Engineering at the Johns Hopkins University School of Medicine, Jordan is also an executive committee member of the Institute for NanoBioTechnology and a co-founder of the Translational Tissue Engineering Center at JHU.
Dr. Green serves as the Chair of the Drug Delivery Special Interest Group of the Society For Biomaterials. He is also the CEO and co-founder of the Baltimore biotech startup company, AsclepiX Therapeutics.
His work has resulted in the publication of over 60 papers and he has received numerous awards including the Maryland Outstanding Young Engineer Award, the Carnegie Mellon University Recent Alumni Award, the Biomedical Engineering Society Rita Schaffer Award, and was named by Popular Science as one of the 2014 Brilliant Ten.