Johns Hopkins named 'Best Graduate School' in biomedical engineering by U.S. News & World Report
March 14, 2017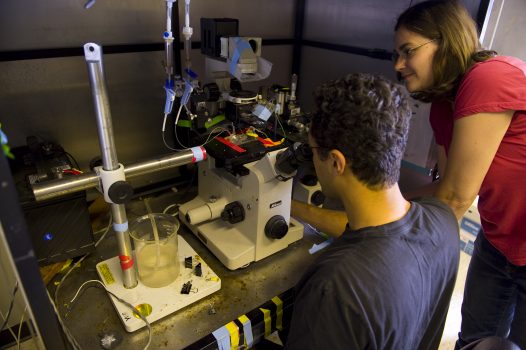 The Johns Hopkins biomedical engineering program has secured the top spot once again in U.S. News & World Report's rankings of "Best Graduate Schools" in biomedical engineering and bioengineering for 2018. Run jointly by the Whiting School of Engineering and the School of Medicine, the biomedical engineering program has long held this distinction.
"What makes our program in biomedical engineering unique – and one of its greatest strengths – is that it resides equally in the School of Engineering and the School of Medicine," says Ed Schlesinger, dean of the Whiting School. "Our graduate students are mentored by clinicians at one of the world's top hospitals, where they make a positive impact on society by conducting and translating research into technologies that solve major health challenges."
The Johns Hopkins PhD Program in Biomedical Engineering is designed for students who wish to pursue careers in research and development, academics, or medicine. Students are provided theoretical instruction in the traditional engineering disciplines, given exposure to specialized biomedical engineering topics, and have the opportunity to participate in supervised research projects. The graduate program also includes a Master's degree program in biomedical engineering, and a Master's degree program through the Center for Bioengineering Innovation and Design.
"Our program fuses together biology, medicine, and engineering and creates opportunities for our students to learn from world-class faculty, and to participate in discovery science and translational research," says Leslie Tung, professor and interim director of biomedical engineering. "Our students have gone on to hold leadership positions in academia, industry, government and medicine."