Johns Hopkins BME partners with world's top engineering school
July 31, 2018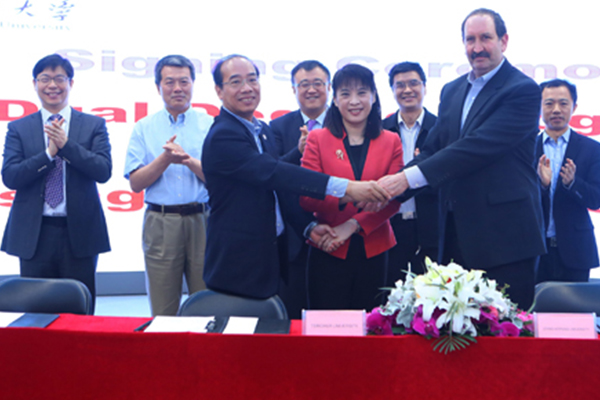 The Johns Hopkins University's top-ranked Department of Biomedical Engineering has entered into an international partnership with the world's No. 1 engineering school, Tsinghua University in Beijing, China, to give master's level students the opportunity to earn graduate degrees from both institutions.
The Tsinghua JHU-BME Dual Degree MS program, finalized in May 2018, marks the first academic collaboration between Johns Hopkins BME, which boasts the nation's top-ranked graduate programs, and Chinese powerhouse Tsinghua University, ranked by U.S. News & World Report as the world's best global engineering school. The initiative will further enhance the research collaboration between the two institutions that started in 2008 with the establishment of a joint Center for Biomedical Engineering Research.
Over the two-year curriculum, students will study and conduct research in the United States and China, earning an MSE degree in biomedical engineering from Johns Hopkins and an MS degree from the Tsinghua Electronic Engineering or Biomedical Engineering departments.
"This partnership brings together the two best engineering programs in the world to position our students at the forefront of the rapidly expanding and dynamic medical technology innovation field," says Michael I. Miller, the Bessie Darling Massey Professor and Director of Biomedical Engineering at Johns Hopkins. "The future of biomedical engineering education is global, and we are proud to partner with Tsinghua University to offer students this exciting opportunity."
Tsinghua JHU-BME program students will spend their first year at Johns Hopkins University in Baltimore, Md., taking advanced, project-based courses in one of six BME focus areas that include biomedical data science, regenerative and immune engineering, neuroengineering, biomedical imaging and instrumentation, genomics and systems biology, and computational medicine. They will have the opportunity to work with top researchers, clinicians, and physicians at the Johns Hopkins School of Medicine and the Whiting School of Engineering.
During a second year, dual-degree MS students will travel to Tsinghua University in Beijing, where they will pursue a year of thesis research under the mentorship of China's leading scientists and engineers. In China, students also will gain first-hand knowledge of the country's rapidly growing medical technology industry and have the opportunity to participate in summer internships with leading Beijing companies and hospitals.
"This provides our students with the best of both worlds," says Raimond L. Winslow, the Raj and Neera Singh Professor of Biomedical Engineering, director of the Institute for Computational Medicine, and the BME department's vice chair of academic programs. "At Johns Hopkins, they receive specialized, hands-on training in emerging BME disciplines and access to one of the nation's best medical schools. At Tsinghua, they gain a global perspective of research and product development that will make them an asset for future employers. Together, these experiences give them a competitive advantage in the global marketplace."
Designed to foster international collaborations, students from Johns Hopkins will be joined by their counterparts from Tsinghua University. Program managers from both universities will support students enrolled in the dual degree MS program, providing personalized assistance with housing, transportation, course schedules, and other aspects of life in a new country.
More information about the Tsinghua JHU-BME Dual Degree MS Program can be found on the program webpage.
-Kristen Swaney