International student teams compete at Johns Hopkins Healthcare Design Competition
April 18, 2018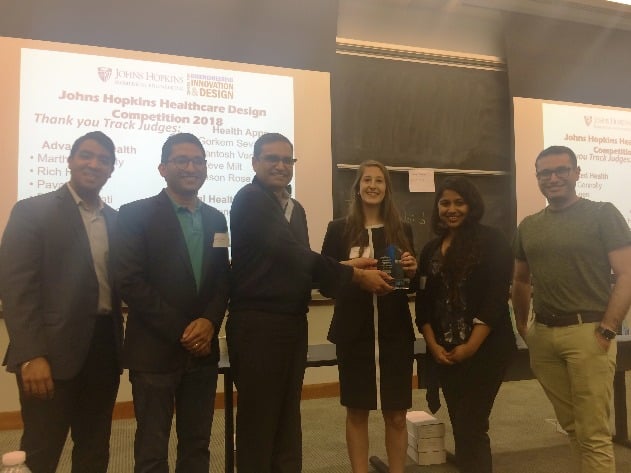 The 2018 Johns Hopkins Healthcare Design Competition attracted student teams from universities across the globe to showcase novel engineering and software design solutions to clinical needs. Hosted by the Department of Biomedical Engineering's Center for Bioengineering Innovation and Design at Johns Hopkins University, more than 150 students, judges, sponsors, clinicians, and guests attended the design competition on April 15.
Of the 109 applicants, 25 teams were selected to present their designs in one of three categories—Advanced Health Systems, Global Health/Humanitarian Design, and Health Apps/Information Technology.
"This design competition is all about encouraging young innovators to work with clinicians and other key stakeholders to design effective solutions to pressing health care problems here and around the world.  We were very happy to see participation of teams from over seven countries," said Youseph Yazdi, executive director of the Johns Hopkins Center for Bioengineering Innovation & Design.
Teams were judged on a number of criteria, including their ability to understand the clinical problem, develop a feasible solution, and build a realistic implementation strategy. The winning teams received cash awards totaling more than $27,000.
Winning teams in each category include:
Advanced Health Systems
First Prize:
EmboNet—Next Generation Embolic Protection Device for Aortic Bypass Surgeries
Brown University/Rhode Island School of Design, USA
Second Prize:
AssistENT—N-Stent: Daily-Wear Nasal Breathing Aid
Johns Hopkins University, USA
Third Prize:
Zfib—AED Pad Accessory to Decrease Skin Impedance
Rice University, USA
Global Health/Humanitarian Design
First Prize:
Nanodropper—Reduce Cost, Increase Access, Promote Eye Health
University of Washington, USA
Second Prize:
Ithemba—Rethinking Breast Cancer Diagnosis
Johns Hopkins University, USA 
Third Prize:
Team Breast Test—Training Model for Detecting Early Stage Breast Cancer in Low-Resource Settings
Rice University, USA
Health App/Information Technology
First Prize:
I–Ophthalmology, MOEBIO, Biocat—Healthcare Disruptors in Ophthalmology
Barcelona, Spain 
Second Prize:
Stairway to Stability—A Walking Aid for Parkinson's Patients
Rice University, USA 
Third Prize:
SurgiSight Medical—A mobile application for discharged surgical patients to communicate with their healthcare provider
Johns Hopkins University, USA
"It was wonderful to be able to partner with a company like Johnson & Johnson to create an event like this," said Yazdi. "Johns Hopkins University shares two core values with Johnson & Johnson—creating better solutions for patients, and developing a new generation of leaders in our field. The Healthcare Design Competition promotes both of these values."
Funding for this event was generously provided by Boston Scientific and Johnson & Johnson.