Humanitarian Hackathon for Gaza
July 9, 2018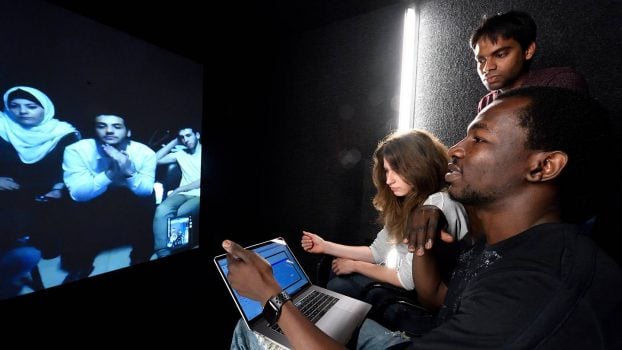 Batool Matter and Michelle Graham stood shoulder to shoulder in front of a panel of judges, ready to present their design for a better ambulance emergency triage system for low-resource settings. They and four other team members had spent the better part of a week working on the design, and they had carefully rehearsed their presentation.
But after a few minutes, the internet connection unexpectedly cut out, and the video feed connecting Matter and two of the judges to the rest of the group blinked into blackness. Suddenly, Graham was left to continue the presentation on her own.
Although they appeared side by side, Matter, Graham, and the judges stood a world apart—half of them located in a gold-painted shipping container on Johns Hopkins University's Homewood campus, half in a similar room in the Gaza Strip on the coast of the Mediterranean Sea.
It was the final day of the Humanitarian Design Challenge presented by the Johns Hopkins Center for Bioengineering Innovation and Design, or CBID, which is housed in the Department of Biomedical Engineering. Participants in Baltimore and Gaza had spent the final week of June designing solutions for health care problems in humanitarian crises and conflict, with a specific focus on helping first responders in Gaza—among the most densely populated places on the planet. Health and safety problems there have many sources: political turmoil, military conflict with Israel, travel and import restrictions, and poverty.