Four BME researchers recognized at Young Investigators' Day
April 10, 2019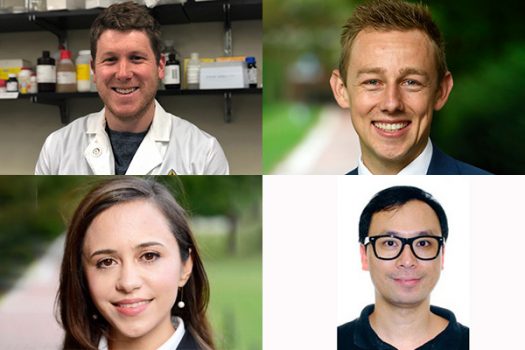 Four members of the Johns Hopkins Department of Biomedical Engineering were recognized at the 2019 Young Investigators' Day award ceremony yesterday, which celebrates the unique contributions of junior researchers and the mentors who helped them excel in their fields.
Those representing Hopkins BME include:
Michael Blatchley – Paul Talalay Award
Blatchley is a graduate student working in the lab of Sharon Gerecht to understand how human blood vessels form in order to aid the development of new therapies for cardiovascular disease and cancer.
"I have been guided by exemplary mentorship and have been incredibly fortunate to have so many great labmates to discuss hypotheses, refine my experimental techniques, and learn new protocols," said Blatchley. "I certainly would not have been able to do this alone and am grateful for everyone who contributed to the success of this project."
John Hickey – Hans J. Prochaska Award
Hickey is a research fellow working in the labs of Jonathan Schneck and Hai-Quan Mao to engineer several biomaterials to overcome some of the challenges facing T-cell immunotherapies.
"Many, many people and organizations contributed to the success of my project. At the forefront are my two principal investigators," said Hickey. "They were instrumental in their confidence in me, openness to new ideas and collaborations, guidance and training, and providing a fertile lab environment."
Shiva Razavi – Michael A. Shanoff Award
Razavi recently graduated with her PhD and worked in the lab of Takanari Inoue to use cell biology techniques to parse the signals that regulate physiological processes such as cell division, movement, and fusion.
"My adviser was the backbone of this project. He was patient during the initial years that I spent understanding and optimizing a platform that became the chassis for the proteins I assembled during the later years," said Razavi. "He also connected me to scientific experts in Japan, France, Iowa, and Johns Hopkins who all elevated the work with their comments or scientific contributions."
Wu Yuan – Alfred Blalock Award
Yuan is a research associate working in the lab of Xingde Li to develop a super-achromatic flexible probe with an ultracompact form factor, which offers great potential to perform "optical biopsies" without the need for tissue removal or processing.
"With its world-class clinical practice and biomedical research, Johns Hopkins is an ideal place to tackle real-world clinical challenges with innovative technologies," said Yuan. "Guidance and encouragement from my mentor and help from my talented colleagues all contributed to the success of this work."
Visit Johns Hopkins Medicine to learn more about all the Young Investigators' Day award recipients.