BME students showcase prototypes at annual Design Day
May 10, 2019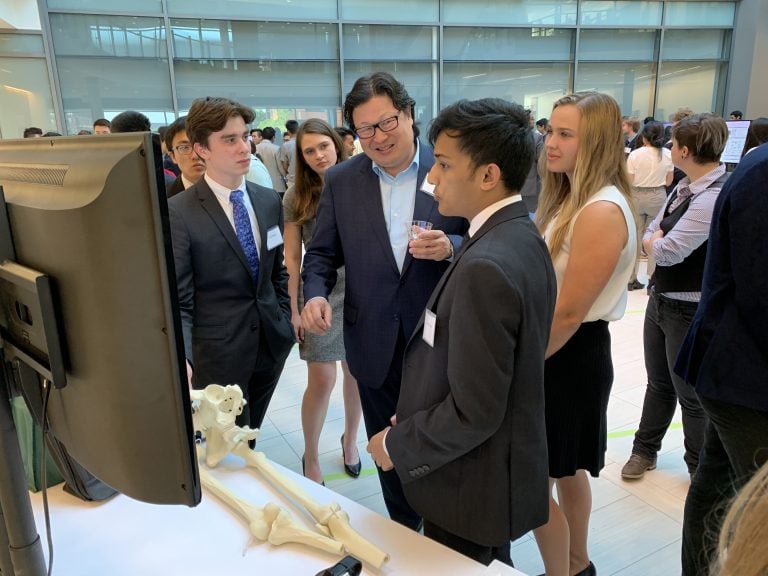 On May 7, student teams representing each of the departments from the Whiting School of Engineering revealed their innovative solutions to real-world challenges at the annual Johns Hopkins Engineering Design Day. This included more than 30 teams of biomedical engineering undergraduate and graduate students, who presented the results of their year-long design projects to students, faculty, clinicians, alumni, and sponsors through poster sessions, presentations, and prototype demonstrations at the Johns Hopkins East Baltimore campus.
Each year, more than 100 students from the BME undergraduate Design Team program engage with the world's leading physicians, scientists, engineers, and business mentors to design better solutions to important healthcare challenges. Working in teams of five to eight first- through fourth-year students, these undergraduates develop new technologies, systems, and processes to diagnose and treat disease and improve patient lives.
Teams have optimized delivery of asthma medication, designed tools to monitor postoperative blood flow, developed computer vision-based systems to track operating room workflow, created biopsy devices for breast cancer diagnosis in low-resource settings, and more.
"The design program helps us all by giving us an opportunity to go through the entire design process, from problem investigation to intellectual property and business development," said Samiksha Ramesh, a third-year biomedical engineering student who led a design team to create an interactive physical therapy play center for children with cerebral palsy. "It teaches us to put our engineering work into context to produce a commercially viable product."
This year marks the 10th anniversary of the biomedical engineering master's program, offered through the department's Center for Bioengineering Innovation and Design. CBID master's students develop healthcare solutions to challenges both here and globally through an iterative process that benefits from clinical immersion, industry partnerships, and international travel to low-resource healthcare settings.
"Design education is essential to our program," said Youseph Yazdi, assistant professor of biomedical engineering and executive director of the CBID program. "Every one of these projects is addressing a problem where people desperately need a solution."
In addition to undergraduate Design Team and CBID master's projects, this year's BME Design Day featured work by student teams representing a number of other project-based design courses offered by the department. These courses include Precision Care Medicine, Rehabilitation Engineering, and Advanced Design.
"This year's BME Design Day showcased work from across the department," said Elizabeth Logsdon, senior lecturer, associate director of academic programs, and co-director of the Design Team program for the Department of Biomedical Engineering. "In just one year, our students were solving problems with more than 14 clinical departments to create safer surgeries, faster diagnoses, and more effective treatments."
The event also featured a keynote address from Amarpreet Sawhney, founder and executive chairman of Ocular Therapeutix, Inc. With more than 120 issued and pending patents to his name, Sawhney gave students advice on becoming entrepreneurs, including tips for choosing products that will succeed, acquiring funding through various avenues, understanding the importance of failure, and realizing how board participation and structure can impact a business.
After an interactive poster session featuring prototype demonstrations, several design students were presented with awards for their outstanding contributions throughout the year.
2019 winners included:
Design Team Teaching Award: Natalie Ng and Jessica Dakkak, CBID MSE students
Outstanding Team Leader: Samiksha Ramesh (Team: PediaCORE)
Outstanding Contribution in Project Management from a Freshman: Marc DiMeo (Team:  Benegraft)
Outstanding Technical Contribution from a Freshman: Nela Mohan (Team: Breast Cancer Biopsy in Low-resource Settings)
Outstanding Contribution in Project Management from an Upperclassman: Erika Bhadra (Team: ObstetriCare)
Outstanding Technical Contribution from an Upperclassman: Emily Chang (Team: ObstetriCare) and Santiago Balza (Team: EchO2)