Assistant Professor Nicholas J. Durr joins BME's Center for Bioengineering Innovation
September 18, 2015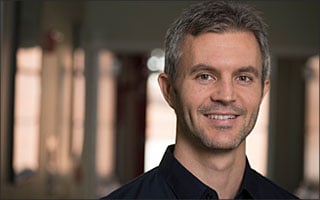 Inventor and entrepreneur Nicholas J. Durr has joined the Department of Biomedical Engineering's Center for Bioengineering Innovation & Design as director of undergraduate programs. He'll oversee CBID's undergraduate program, which includes the successful BME Design Team courses — key components of the department experience on the Homewood campus.
Durr will lead the Design Team core faculty, which includes BME Associate Research Professor Robert Allen and BME Lecturer Elizabeth Logsdon, who also serves as the BME Design Studio's director. Collectively this group and the BME Design Team sequence has set the standard nationwide in design collaboration and teaching methodology. Each year, more than 100 students work in 14 teams, with involvement from many clinicians from across Johns Hopkins School of Medicine.
Durr, who received his MS and PhD degrees in biomedical engineering from the University of Texas at Austin, will work part time until January. Then, he will join the faculty full time as an assistant professor with a research program focused on his interests in computational imaging and clinical/commercial translation of optical technologies.
Most recently, Durr founded and still works with PlenOptika, a Boston-based startup aimed at commercializing technologies to improve eye care accessibility worldwide. While an M+Vision postdoc fellow at MIT, starting in 2011, he and colleagues developed QuickSee, an inexpensive hand-held device that quickly and easily prescribes corrective eyeglasses with the push of a button.
"We are excited to have an innovator and researcher of Nick's caliber join us," says Interim Department Chair Leslie Tung. "He brings experience from the commercial sector and is personally seeing one of his innovations move from the laboratory to the marketplace."
At BME, Durr will continue conducting research into new optical and computational technologies to give health care providers more tools for accurately assessing disease. In the case of colonoscopies, for example, doctors fail to detect potentially dangerous polyps 10 to 30 percent of the time. A major reason for these missed lesions: Current optical probes can overlook polyps due to poor color contrast or subtle topography.
Durr wants examining physicians to have the ability to see polyps in three dimensions rather than in today's 2-D format. The challenge is that probes have only a single camera, and fitting two cameras on a probe to get a 3-D effect is impractical. However, by sequencing flashes from the probe's lights then processing the image sequence digitally, a single camera can provide a 3-D view — and give the physician a better chance at finding and removing the cancerous spot. By structuring the light and computationally analyzing the images, future systems can also uncover additional contrast that is indicative of disease.
"These new optical and computational technologies potentially will provide information that we aren't able to see with the naked eye," Durr says.
Durr will continue his work with PlenOptika, which he says holds the potential to lower barriers to getting eyeglasses for people in low-resource settings.
— Michael Blumfield