Biomedical engineering has emerged as one of the most exciting interdisciplinary research fields in modern science. Biomedical engineers apply innovative approaches from the experimental life sciences in conjunction with theoretical and computational methods from the disciplines of engineering, mathematics, and computer science. At Johns Hopkins University, we train engineers to work at the cutting-edge of this stimulating discipline. We believe in the importance of in-depth training in life sciences, modern engineering, mathematics, and computer science.
What should you consider when looking at graduate schools?
When researching graduate schools, a prospective student should consider the research opportunities, the people, the professional and academic networking community, and the location. As you will be spending the next four to seven years of your life in grad school, you will want to assess each of these components. Using the achievements of BME faculty and program graduates as the measure for success, we feel we have created an ideal environment for an enriching and rewarding graduate school experience at Johns Hopkins.
An intellectually stimulating environment and the nurturing spirit of collegiality extend throughout the program. Year after year, we attract the best and brightest students world-wide to participate in this very competitive program.
Research and Networking Opportunities
Johns Hopkins is known as one of the top medical schools, and many of the physicians here are incredibly enthusiastic about research. Collaborations are not only approachable, but also greatly encouraged. We also organize seminars and networking events to connect the clinical, engineering, and basic science aspects of research.
Faculty and Advising
Hopkins BME faculty are engineering the future of medicine, with research articles regularly appear in a host of high-impact academic journals. They have been featured on journal covers, interviewed for podcasts, and have participated in a multitude of academic seminars and conferences.
Graduate students are permitted to select any Hopkins faculty as their thesis advisor. Faculty areas of expertise span the realm of biomedical research — increasing the likelihood that you will find a faculty advisor in the research area where you have the most interest.
Location and Transportation
Baltimore, also known as "Charm City," is a smaller city that is rich in history and culture, with an unassuming feel. The city is filled with museums, conservatories, sports teams, parks, and, of course, crab.
Hopkins has two main campuses in Baltimore, but faculty and labs are generally localized. While the city has both a metro and bus system, most find it convenient to simply use the free Hopkins shuttle, which runs between the Homewood and East Baltimore campuses. 
Specialize in one of seven focus areas:
PhD Program
Year after year, Johns Hopkins BME attracts the best and brightest students worldwide to participate in this competitive program. Our students work alongside leading clinicians and researchers from the Johns Hopkins Hospital to develop and apply new technologies to understand, diagnose, and treat disease.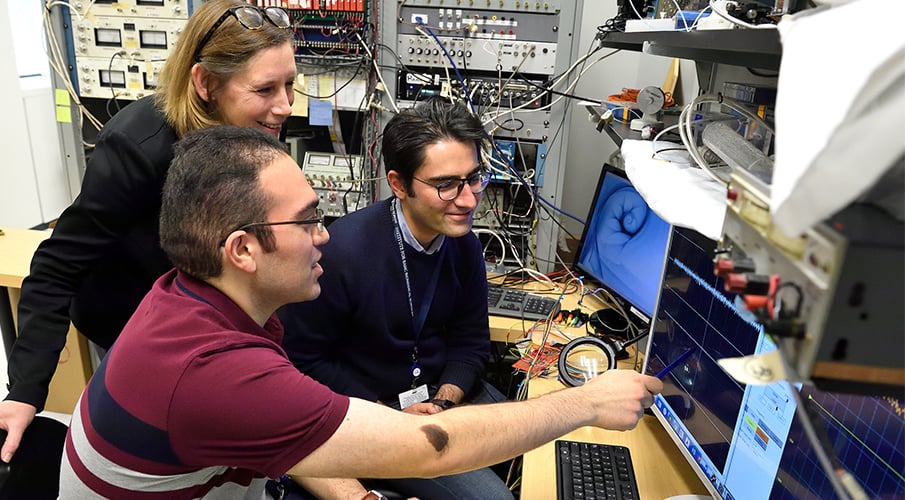 MD PhD Program
Our MD PhD program is more arduous than the PhD program alone, but has marked advantage for students interested in clinical research and applications in hospital systems and in the delivery of healthcare.