Immunoengineering harnesses the power of the immune system to treat diseases, such as cancer, and to promote tissue regeneration for improved healing and repair. In our program, we apply engineering methods to quantitatively understand the immune system in clinically-relevant contexts to improve existing therapies and to develop new ones. Our program requires a modestly-sized core curriculum supplemented by other courses and research opportunities offered across Johns Hopkins' world-leading, multidisciplinary immunotherapy efforts.
Below, you will find a suggested list of courses to help you in your course planning. Students are expected to complete at least two of the core focus area courses. Your academic interests determine the remaining courses (focus area electives). You will meet with the faculty lead of your chosen focus area to determine your course plan. The program administrator will provide additional advisement and course approval. Please note that all listed courses are suggested and may not always be offered. Course offerings are subject to change from semester-to-semester.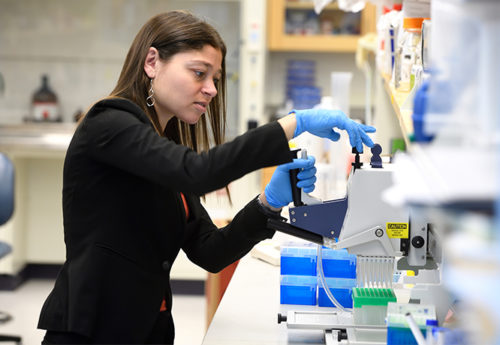 IE Focus Area Courses
All IE track students* are expected to complete two or more (ideally, all four) core curriculum courses:
Advanced Topics in Regenerative and Immune Engineering (EN.580.752)

Cellular Engineering (EN.580.641)

Molecular Immunoengineering (EN.580.646)

Tissue Engineering (EN.580.642)
* If you are a Johns Hopkins undergraduate who has already taken these courses, consult with your faculty advisor to select alternative courses.
IE Additional Electives
Any relevant science, technology, engineering, or math courses (based on consultation with your faculty advisor) offered at Johns Hopkins must be taken to complete the 30 credit hours required for the MSE degree. In general, the electives are expected to complement the IE focus track curriculum or a student's research programs (see below).  In many cases, the core courses and electives listed for the Translational & Cell Engineering track are appropriate for IE students.
Research
Up to six units of research-based credit can apply to the IE track MSE degree. To obtain credit for research, enroll in any of the following courses:
Applied Research and Grant Methodology I and II (EN.580.821/822)

BME MSE Research Practicum (EN.580.850) – spring semester only

Research in Biomedical Engineering (EN.580.801/802)