AI in Medicine Focus Area Curriculum Requirements
Increasingly, the decisions physicians make about how best to treat their patients will be informed by the results of computational analyses of patient data. This increasing reliance on methods of artificial intelligence to guide patient care will not only transform medicine, but will also transform the ways in which physicians are trained. Future physicians will need to understand core principles of data science and be able to apply them to critically evaluate the emerging literature on AI in medicine and to do research in this emerging field.
Over the course of two semesters, the AI in Medicine focus area provides medical students, residents, and clinical fellows with the advanced training needed to think critically about topics in data science, and to pursue careers in research or development. Training in this focus area can be individually tailored to meet the needs of medical trainees from diverse educational backgrounds. Basic course requirements in this focus area allow for maximum flexibility in curriculum design.
Limited scholarship funds are available by application to AI in Medicine students who are currently affiliated with the Johns Hopkins Medical Institutions.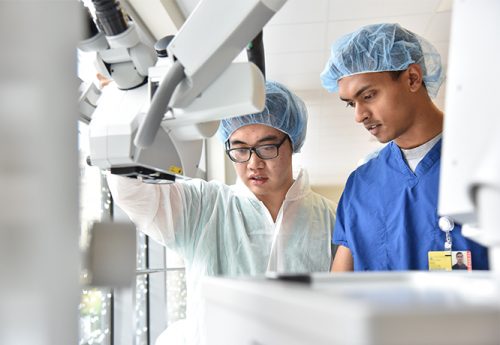 AIM Focus Area Courses
To be awarded the MSE in Biomedical Engineering, AI in Medicine focus area students must complete a minimum of 30 credits of course work, including:
Two six-week long courses:

Biomedical Data Science (EN.580.475)
Biomedical Data Science Lab (EN.580.477)

One of two year-long, project-based courses:

Neuro Data Design I and II (EN.580.697/698)
Precision Care Medicine I and II (EN.580.680/681)

A minimum of three focus area electives (see list below)
AIM Focus Area Electives
Students in the AI in Medicine focus area must complete a minimum of three of the following:
Artificial Intelligence System Design & Development (EN.601.686)
Clinical Data Analysis with Python (ME.600.720)
Computational Molecular Medicine (EN.553.650)
Computer Integrated Surgery I (EN.601.655 (01))
Computer Vision (EN.601.661)
Data Mining (EN.553.636)
Deep Learning (EN.520.638)
Deep Learning: Data to Models (EN.

601.676)

Deep Learning for Automated Discourse (EN.601.767)
Deep Learning in Discrete Optimization (EN.553.667)
Foundations of Computational Biology and Bioinformatics (EN.580.688)
Introduction to Computational Medicine (EN580.631)
Introduction to Probability (EN.553.620)
Introduction to Statistics (EN.553.630)
Learning, Estimation and Control (EN.580.691)
Machine Learning (EN.601.675)
Machine Learning I & II (EN.553.740/1)
Machine Learning: Deep Learning (EN.601.682)
Machine Learning for Signal Processing (EN.520.612)
Mathematics of Deep Learning (EN.580.745)
Radiology for Engineers (EN.580.725)
Sparse Representations in Computer Vision & Machine Learning (EN.580.709)
Surgery for Engineers (EN.580.740)
Surgineering: Systems Engineering & Data Science in Interventional Medicine (EN.580.750)
Vision as Bayesian Inference (EN.

601.

783)

Spring (3rd and 4th terms through the School of Public Health) – You must register for both:

Data Science for Public Health I (PH.140.628.71)
Data Science for Public Health II (PH.140.629.71)
*Instructor and advisor approvals required with the submission of an interdivisional registration form through SEAM
Additional Electives
Students will select additional graduate level science, technology, engineering, or math courses with the consent of their advisor to complete the total of 30 credits required for graduation. Up to six credits (two courses) of independent research with faculty can also count toward the degree. Two optional "bootcamp" courses are planned for the month of August for students who need additional training in applied probability theory and statistics or introductory programming. Note: these bootcamp courses do not count toward MSE credits.