Zero gravity genomics
April 29, 2016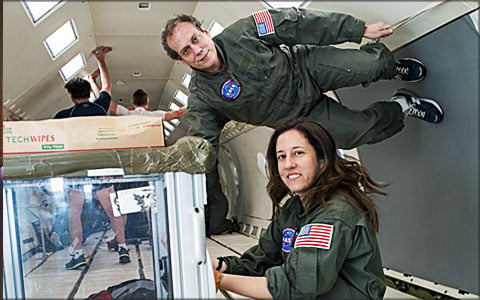 Professor of Biomedical Engineering and recently named Bloomberg Distinguished Professor Andrew Feinberg, MD, MPH, is among the nation's most influential scientists. He is also director of the Center for Epigenetics — which was the first epigenome center in the country to develop tools to understand the role of epigenetics across human diseases, or the information in cells other than the DNA sequence itself.
His expertise in genomics, and avocation in astronomy, led him to a unique opportunity — to study how long-term residence in space affects the human body.
Feinberg is part of a team of experts selected to participate in the NASA Human Research Program Twins Study — how a year in space affects astronaut Scott Kelly's biology, using his identical twin earth-bound brother, Mark, as the control.
Crucial questions must be investigated for NASA in order to pursue interplanetary space exploration. What is the impact on health and human performance from eating dehydrated food for a year? How does zero gravity in an enclosed structure impact muscle use? What biological impact will exposure to cosmic rays and solar radiation have on astronauts?
Feinberg and Postdoctoral Fellow Lindsay Rizzardi are performing an epigenetic study of the twins, who are well suited for the research because while their DNA sequence is the same, the epigenetic sequence can differ. Using DNA from blood, saliva, and cheek cells, they will be looking for changes in the patterns of chemical tags called methyl groups which attach to DNA and alter the activity of genes.
To explore the possibility of astronauts sequencing their own DNA on future longer flights, Rizzardi and Feinberg recently tested laboratory techniques for sequencing at zero gravity in NASA's reduced-gravity aircraft with successful results.
Feinberg and Rizzardi hope their results, combined with those from other labs, will shed light on coping mechanisms the body uses to survive life in space. The collective findings will lead the way to protecting the health of human voyagers on future, ever-longer space missions.