Xiaoqin Wang Receives $12 Million Award to Lead Research on Speedier Learning
April 27, 2017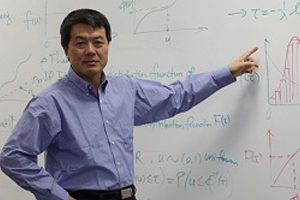 Xiaoqin Wang, Ph.D., a professor of biomedical engineering, neuroscience and otolaryngology–head and neck surgery, and director of the Laboratory of Auditory Neurophysiology at The Johns Hopkins University, has won a $12 million award from the Defense Advanced Research Projects Agency (DARPA) for work with a multi-university team that will focus on targeted neuroplasticity training — a technique that stimulates peripheral nerves to speed up learning processes and improve cognitive skills by modulating the neural circuits in the brain.
Wang and his team, which includes researchers from the University of California at San Francisco, the University of California at San Diego, the University of Iowa and the University of Texas at Austin, will focus on regions of the brain involved in speech and hearing to understand the effects of plasticity on language learning. The team will compare the efficacy of invasive versus noninvasive vagal nerve stimulation (VNS), testing the ability of volunteers to discriminate syllables, learn words and grammar, and produce the unique sounds demanded by some foreign languages.
Wang, who originally was trained as an electrical engineer and later became a biomedical engineer and an auditory neuroscientist, came to Johns Hopkins in 1995 as an assistant professor and was made a full professor in 2005. "I am thrilled to receive my first DARPA award," he says. He has been funded by the National Institutes of Health for the past 20 years to study brain mechanisms related to hearing and vocal communication.
The DARPA award will allow him and his team to pursue imaginative and forward-looking research, he says. Such research might lead to important technical innovations and clinical applications, he adds.
This article originally appeared on Johns Hopkins Medicine.