Virtual testing of new cancer drug therapies to speed clinical trials
October 13, 2015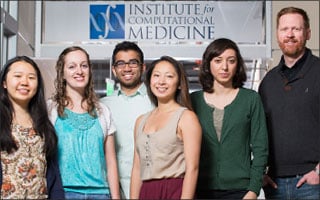 While new drugs offer the promise of treating cancer, their approval rate through clinical trials is dismally low: Only about 7 percent get a thumbs up. But the emerging medical field of computational medicine gives researchers far better odds of creating medications that pass more quickly through trials and provide effective treatment for a wide range of cancer patients.
Spearheading such work is Feilim Mac Gabhann, an assistant professor in BME. His background in chemical engineering plus a PhD in biomedical engineering allow him to conceptualize the key molecular interactions of drug treatment, and then test potential interactions on a massive scale — free of the limitations of traditional methods.
Until computer-aided research arrived, scientists largely operated on the assumption that all human bodies are pretty much alike. Therefore, a given drug should be either effective or ineffective in treating a condition. While it is true that for some medications — ibuprofen, for example — benefits are nearly universal, many other drugs are effective only for a small number of patients.
Those limitations have been driven both by the previous limits of technology and by the theories themselves. Testing on humans only lets researchers give a person one form and one dosage of medication at a time. But a simulator allows researchers to freely adjust variables, virtually testing a thousand or more medications at once. While such testing is not conclusive by itself, it gives scientists a better hint at what's potentially effective and lets them tailor different medications for different people — so-called "personalized medicine."
The other problem with traditional lab testing has been that pharmaceutical companies have looked at drug-target interaction as an isolated, static problem — a given drug should be able to, say, neutralize a cancer-causing protein. But in reality, the dynamics of the human body make such an approach overly simplistic. Scientists need to look at the interaction of several proteins in a person, as well as the larger physiological system. The body's reaction to other events helps researchers anticipate what will be effective.
"If you just measure everything about the tumor, that's not enough," Mac Gabhann says. "You need to make the system respond to some perturbation, then you can tell how it's going to respond to the drug."
Mac Gabhann, from the village of Blackrock in Ireland, leads the Computational Design of Therapeutics Lab, part of the Institute for Computational Medicine. He earned his BE in chemical engineering from University College Dublin and his PhD in biomedical engineering from Johns Hopkins University and had a postdoctoral fellowship at the Robert M. Berne Cardiovascular Research Center and Department of Biomedical Engineering at the University of Virginia.
— Michael Blumfield