Undergraduate HemoGlobe team wins $250,000 grant
September 5, 2012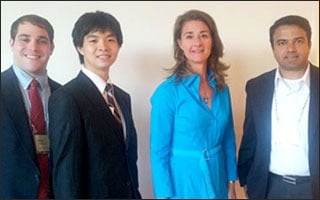 HemoGlobe, a device developed by an undergraduate team from BME's Center for Bioengineering Innovation and Design (CBID), was awarded a $250,000 seed grant at Saving Lives at Birth: A Grand Challenge for Development competition in Seattle, WA.
In partnership with Jhpiego (a Johns Hopkins affiliate), the HemoGlobe team developed a device that will provide community-based anemia screening and national real-time anemia statistics for women and newborns in developing countries, potentially reducing the number of anemia related deaths in those countries.
The HemoGlobe device is a low cost, noninvasive "prick free" tool that transforms a cellphone into a hemoglobin screening device. The device connects to a health care worker's cellphone and includes a sensor which is placed on a patient's finger. Results of the patient's hemoglobin levels are displayed through the phone screen in a color-coded format identifying anemia levels of mild, moderate or severe. At the same time, this information is transmitted to a centralized server creating a real-time geographical map of anemia presence, which will assist health officials in determining where resources are most needed.
The seed grant will be used by CBID to refine technology and pilot-test the device at the community level in Kenya with field partner Jhpiego. "This device has the potential to be a game-changer," says Dr. Soumyadipta Acharya, Assistant Research Professor in the Department of Biomedical Engineering and the project's Faculty Advisor and Principal Investigator. "It will equip millions of health care workers across the globe to quickly and safely detect and report this debilitating condition in pregnant women and newborns."
Saving Lives at Birth: A Grand Challenge for Development is sponsored by a partnership of USAID, the Government of Norway, the Bill & Melinda Gates Foundation, Grand Challenges Canada, and the UK Department for International Development (DFID). The goal of the challenge is to find groundbreaking ideas that can advance existing products and conventional approaches to address the challenge of protecting mothers and newborns in the poorest places during their most vulnerable hours. The 2012 challenge drew more than 500 submissions from 60 countries. Of the 65 finalists invited to compete in Seattle, only 12 were selected to receive a seed grant.
In addition to Dr. Acharya, team members include George Chen, Noah Greenbaum, Justin Rubin, Guilherme Barros, William Chen, Judy Doong, Phillip Oh and David Yin.