Undergraduate device shows promise in treating oxygen-deprived newborns
April 8, 2013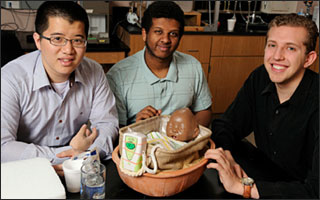 Johns Hopkins BME undergraduates, John Kim, Simon Ammanuel and Nathan Buchbinder were part of a biomedical engineering team that invented the baby-cooling device "Cooling Cure." Working with the BME Center for Bioengineering Innovation and Design, the students designed the device in an effort to create a low-cost and user-friendly solution that would help to curtail a serious health problem in oxygen-deprived newborns in developing regions.
When babies are deprived of oxygen before birth, brain damage and disorders such as cerebral palsy can occur. Extended cooling can prevent brain injuries. However, this treatment is not always available in developing regions where advanced medical care is limited. "Cooling Cure," estimated to cost about $40, is made of a clay pot, a plastic burlap basket, sand, instant ice-pack powder, temperature sensors, a microprocessor and two AAA batteries and is activated by adding water. The device aims to lower a newborn's temperature by about 6 degrees F for three days, a treatment that has been shown to prevent brain damage if administered shortly after loss of oxygen has occurred.
"The students came up with a neat device that's easy for non-medical people to use. It's inexpensive and user-friendly," said Michael V. Johnston, M.D., JHU School of Medicine pediatric neurology professor and Kennedy Krieger Institute chief medical officer and executive vice president, and faculty advisor on the project.
"Cooling Cure" won the Linda Trinh Memorial Award, which recognized the device as an innovative idea for a global health project. A provisional patent on the device has been obtained and BME student inventors, Kim, Ammanuel and Buchbinder have opted to move the project forward.
In addition to Dr. Johnston, students Kim, Ammanuel and Buchbinder, other team members and faculty advisors on this project include, Dr. Soumyadipta Acharya, Dr. Robert H. Allen, Robert Kim, Ewa Kulikowicz, Jennifer K. Lee, Ryan W. Lee, Erika Moore and Neil O'Donnell.
Read the full story: JHU Press Release