Undergrads kick off the semester with Design Sprint challenge
October 6, 2017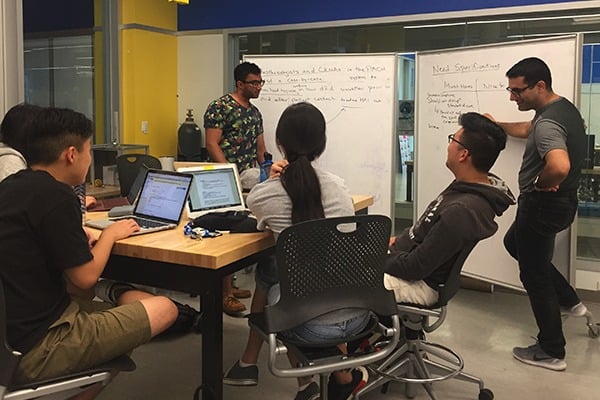 A disposable hand-held scrubbing device. A vending machine to seal hospital workers' cellphones in sterile plastic bags. Cloth wipes soaked in banana-based alcohol. Foot pedal-powered sinks providing filtered water. These were among the ideas presented by students to improve hand hygiene and reduce health care-associated infections in high- and low-resource settings, as part of a biomedical engineering "Design Sprint" this September.
The six-day program, the start of the undergraduate Design Team course, kicked off with lectures from Johns Hopkins Hospital infection control epidemiologist Polly Trexler and nurse Heather Saunders, who discussed barriers to hand hygiene in high-resource settings, such as patients being confined to bed, hand sanitizer dispensers not refilled, and worker fatigue. In another room, Chandrakant Ruparelia, a senior technical adviser for international nonprofit health organization Jhpiego, discussed the challenges of hand hygiene in low-resource countries, where health care workers may not have regular access to running water or sanitizer, and limited time to wash hands. More than 2 million patients acquire health care-associated infections in U.S. hospitals annually, at an estimated cost of over $28 billion, Trexler said.
"Engineering is all about problem-solving," says Amir Manbachi, associate director of the Center for Bioengineering Innovation and Design's undergraduate program and one of the course directors. "The beauty of biomedical engineering is you solve a problem that ultimately helps another person. Hand-washing is so tangible. We wanted students to learn the design process but solve a real-world problem."
Thirteen five-person teams worked to develop a needs statement, brainstorm solutions and design prototypes, and create a three-minute presentation that included slides to explain their top idea.
Seniors Saki Fujita and Vorada Sakulsaengprapha were part of a team that won the best idea award for their Sanigrip concept, a cyclinder-shaped dispenser of hand sanitizer that could be attached to patient bedrails and used by anesthesiologists and other health care workers in the perioperative setting without disrupting workflow. Using a balloon, straws, a pool noodle, and other materials, they constructed a prototype, which they tested on railings around campus.
"We put in a decent amount of work," says Fujita, "but it was pretty fun." Other team members were Olivia Musmanno, Sanjay Elangovan, and Alan Lai.
Manbachi says he was floored to see the Clark Hall BME design studio packed on Labor Day with teams actively collaborating and building prototypes. "I was impressed by the amount of hard work and creativity that went into it," he says. "Our students will now start a design marathon, spending the next two semesters working on creating impactful solutions for some of the most challenging problems in health care."
"These types of exercises demonstrate how much energy the students have," adds Elizabeth Logsdon, a course faculty member who organized the event with Manbachi and Nick Durr, undergraduate program director of CBID. "It's a great way to kick off the semester."
– Karen Blum