Two Hopkins BME students receive Fulbright grants
May 24, 2018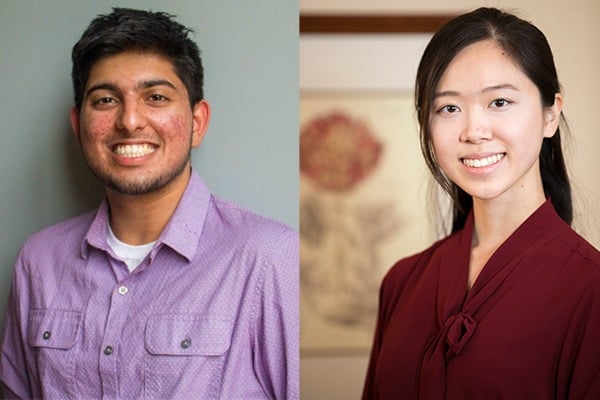 Two biomedical engineering students at Johns Hopkins University have been awarded Fulbright grants, earning the chance to travel abroad to study, teach, and conduct research.
Named for the late Sen. J. William Fulbright, who sponsored legislation creating the prestigious scholarship, the Fulbright Scholar Program is the country's largest educational exchange program, offering opportunities for students and young professionals to undertake international graduate study, advanced research, university teaching, and school teaching worldwide. Approximately 8,000 grants are awarded each year, and the program operates in more than 155 countries.
With the Fulbright Study/Research grant, a student designs a proposal for a specific country. The program aims to facilitate cultural exchange and promote mutual understanding by supporting study or research abroad.
The recipients are:
Himanshu Dashora: After graduating this spring with a BS in biomedical engineering, he will spend a year in Chennai, India, to research cell-to-cell interaction systems to improve stem cell therapies for bone cancer. After that, he plans to pursue a MD/PhD.
Callie Deng: She will graduate this year with a degree in biomedical engineering and then travel to Norway, where she will research MRI techniques to improve breast cancer detection. After that she plans to attend medical school.
More than 325,400 students have been awarded Fulbright grants since the program's inception in 1946. The Fulbright is administered by the U.S. Department of State's Bureau of Educational and Cultural Affairs.
For a complete listing of Johns Hopkins students to receive Fulbright grants, please visit the Hub.