Two from Hopkins BME receive 2017 Whitaker International Fellowships
March 29, 2017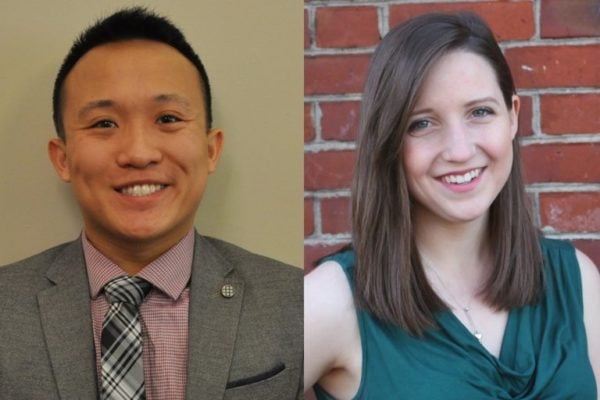 Two students from Johns Hopkins Biomedical Engineering have been awarded 2017 Whitaker International Fellowships, a career-enhancing program that supports young biomedical engineers' travels overseas to conduct research and take coursework.
Adam Li, a second-year PhD student, is conducting research to create advanced data analytics for neurosurgeons to use in treating epilepsy patients. Li analyzes brain recordings as a networked system, describing system characteristics to predict the region of the brain where seizure activity will  originate. In addition to building clinical tools, Li seeks to use computational modeling to understand epilepsy and other seizure disorders.
Through the Whitaker Fellowship, Li will work with Dr. Viktor Jirsa at France's Marseille University simulating seizures at a whole-brain level. According to Li, this work will provide a wealth of data that can be used to improve network algorithms for seizure localization and seizure detection.
"Having the opportunity to work in an entirely new environment and different culture will help me to build the necessary skills to become a successful biomedical engineer in the future," says Li. "I will know how to work with a diverse range of people and work across geographical and cultural boundaries. The Whitaker Fellowship will be a step towards my future goal of building my own company focused on data analytics in the health care space."
Caitlin Romanczyk, a senior who graduated in December, will pursue her love for technology by enrolling in the Master of Research program in Medical Robotics and Image Guided Intervention at Imperial College London. Through the Whitaker Fellowship, she will spend one year studying medical instrumentation and robotics, minimally invasive surgery, surgical imaging, sensing, and neuroergonomics.
"When I heard about the MRes program at Imperial, it seemed like the perfect fit," says Romanczyk. "The program has the technical rigor that I know I need for a successful career in the field, but also has a clinical focus that will allow me to see how these technologies are currently being used to treat patients and develop ways to improve them."
During her fellowship, Romanczyk plans to gain the technical skills and knowledge needed to advance the field of medical robotics, and gain perspective on how health care is approached in the UK. Having a global perspective will guide Romanczyk to work toward solving future health care problems in the U.S. and worldwide.
"One of the most important things I've learned as a biomedical engineer at Hopkins is that in order to solve big problems, you have to look at them from many different angles," explains Romanczyk.
Li and Romanczyk will spend between nine and 12 months studying abroad through the Whitaker Fellowship, which offers a stipend commensurate with the recipient's experience and expected expenses in the host country.
– Sarah Tarney