Two from Hopkins BME named Goldwater Scholars
May 6, 2019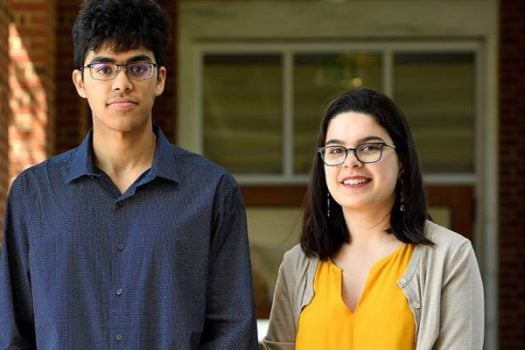 Two students studying biomedical engineering at Johns Hopkins University have been awarded Goldwater Scholarships for their research and achievements in the fields of science, technology, engineering, and math. Vinay Ayyappan and Julia Costacurta are among 496 scholarship winners for the 2019-2020 academic year.
Established in 1986, the Goldwater Scholarship was one of the first significant national scholarships focusing on STEM fields. The program awards winners $7,500 for tuition, fees, books, and room and board. The national recognition has also been known to give students a competitive edge when pursuing graduate fellowships in their fields.
Sophomores and juniors are nominated by their schools and selected for their research record and promise as future leaders in STEM fields. This year, winners represent 443 academic institutions and were selected from a pool of 1,223 nominees.
2019-2020 Goldwater Scholars from Johns Hopkins BME
Vinay Ayyappan is a junior biomedical engineering major with a concentration in systems biology. During his time at Hopkins, he has contributed to multiple research projects involving metabolic profiles in breast cancer and determining the drivers of altered glutamate metabolism in breast cancer in the lab of Kristine Glunde, a professor of radiology and radiological science in the Johns Hopkins School of Medicine. Ayyapan's research has also included curating a database of ADP-ribosylated proteins and identifying malfunction in cerebrospinal fluid shunts. After graduation, he plans to pursue an MD and a PhD in systems biology. His goal is to lead interdisciplinary research efforts revolving around cancer metabolism that integrate "-omics" data and novel imaging approaches to characterize tumors and inform new possibilities for cancer treatment. In 2018, he was also awarded an Astronaut Scholarship for academic merit and achievements in science.
Julia Costacurta is a junior biomedical engineering and mathematics major who plans to pursue a PhD in electrical engineering or applied mathematics. Costacurta's research, conducted in the neuromedical control systems lab of Sridevi Sarma in the Department of Biomedical Engineering, has focused on designing feedback controllers for human-prosthetic systems that allow the wearer to feel what a prosthetic hand is touching. After earning her PhD, Costacurta plans to teach at the university level and lead a research group focusing on biological applications of feedback control theory, such as circadian rhythm or drug delivery.
Kathy Le, a Johns Hopkins junior studying biophysics, was also awarded a Goldwater Scholarship.