Two BME students win AHA pre-doctoral fellowships
May 24, 2011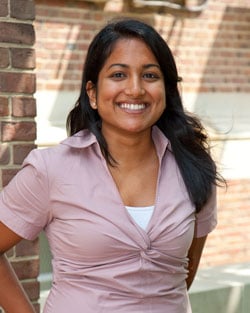 Two BME students have been awarded American Heart Association pre-doctoral fellowship awards. Sravanti Kusuma and Ambhi Ganesan have been awarded the fellowship, which provides research assistance and funding to students pursuing cardiovascular research.
Sravanti's research, in the lab of Dr. Sharon Gerecht in the department of Chemical and Biomolecular Engineering, focuses on understanding vascular development and repair in order to improve vascular therapeutics.
Ambhi, working with Dr. Andre Levchenko in BME, is studying how cells use calcium signaling to determine and influence various responses of the cells to different external stimuli. He aims to use this fellowship to investigate molecular signaling mechanisms that contribute to generation and regulation of cardiac arrhythmias.