Two BME researchers honored at Young Investigators' Day
April 17, 2018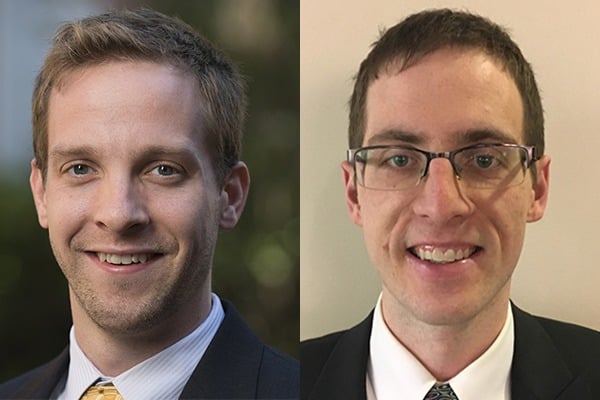 Two members of the Johns Hopkins Department of Biomedical Engineering were honored today at the School of Medicine's 2018 Young Investigators' Day award ceremony. Marking its 41-year anniversary, this event celebrates the unique contributions of junior researchers and the mentors who helped them excel in their fields.
David Herzfeld earned the Paul Ehrlich Research Award for his PhD and postdoctoral research in the BME department's Laboratory for Computational Motor Control. With mentor Reza Shadmehr, professor of biomedical engineering, Herzfeld investigated how neurons of the cerebellum, a region of the brain crucial for motor control and motor learning, contribute to the execution of voluntary eye movements.
"Dr. Ehrlich is a legend in microbiology and medicine, and is truly a scientific role model," said Herzfeld. "Receiving the Ehrlich Award is an inspiration. My career goal is to help individuals with neurological disorders and disease. Hopefully, I can live up to the excellent role model in Dr. Ehrlich."
PhD student Collin Tokheim received the Martin and Carol Macht Research Award for his thesis work, which focuses on understanding the causes of cancer using a data science approach. Working with Rachel Karchin, associate professor of biomedical engineering, Tokheim is analyzing thousands of human cancer samples to study the mutations that "drive" the growth of tumor cells.
"Research can partly be an individual journey into the less charted areas of science, so to be recognized by senior scientists at Johns Hopkins is especially meaningful," said Tokheim. "It represents years of hard work and perseverance."
Visit Johns Hopkins Medicine to learn more about David Herzfeld and Collin Tokheim.