Two biomedical engineering graduate students named Siebel Scholars
October 9, 2018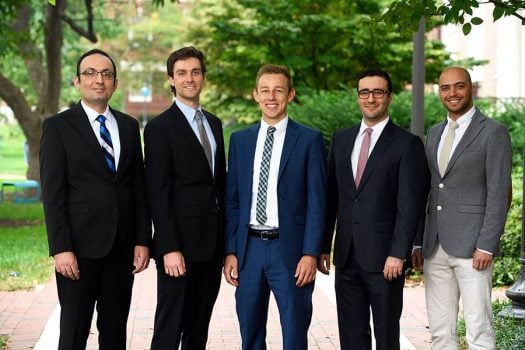 Two Johns Hopkins University biomedical engineering students were recently named Siebel Scholars for 2019, an annual award that recognizes nearly 100 of the top graduate students from universities across the nation who are studying in the fields of business, bioengineering, computer science, and energy science.
Siebel Scholars are selected for their outstanding academic performance and demonstrated leadership, and they receive a $35,000 award toward their final year of studies. Since its founding in 2000, the Siebel Scholarship has been awarded to 50 Johns Hopkins graduate students.
"Our Siebel Scholars embody the spirit of investigation and leadership that marks a Johns Hopkins University engineering graduate student," says Ed Schlesinger, dean of the university's Whiting School of Engineering. "They have demonstrated a commitment to science and innovation, and a dedication to instructing and mentoring others. We are proud of their many accomplishments."
The winners from the Johns Hopkins Department of Biomedical Engineering are:
John Hickey
Hickey, a PhD candidate in the Department of Biomedical Engineering, has received numerous awards, including a $25,000 grant to commercialize his research and $20,000 from the Johns Hopkins Idea Lab competition to implement public health campaigns in Baltimore. He is vice president of the nonprofit MEP and created the mobile app T-crunch to increase student feedback in academic classes. He has received NIH, NSF, and ARCS Fellowships to engineer biomaterial artificial lymph nodes and cells for immunotherapy.
Passionate about teaching and community outreach, Hickey created and taught three undergraduate and masters-level immunoengineering courses at Towson University and served as a teaching-as-research fellow. He mentored 12 students, and together they produced eight publications and 31 presentations with multiple research awards.
Luke Osborn
Osborn graduated summa cum laude from the University of Arkansas before joining Johns Hopkins to study biomedical engineering. As a PhD student under the mentorship of Nitish Thakor, Osborn has developed multilayered tactile sensors for prosthetic hands and demonstrated the ability to provide sensations of touch and pain to amputees using noninvasive nerve stimulation.
He has authored nine peer-reviewed papers, including a book chapter and paper in Science Robotics. He's mentored 23 undergraduate and three high school students and has held numerous leadership positions at Johns Hopkins including biomedical engineering MSE Council president, PhD Council vice president, and president and race director of the JHU Cycling Team.
Other winners from Johns Hopkins include Farshid Alambeigi (mechanical engineering), Ehsan Azimi, (computer science), and Javad Fotouhi (computer science).
Excerpted from the Hub.