Thirty interdisciplinary research teams receive Johns Hopkins Discovery Awards
June 13, 2018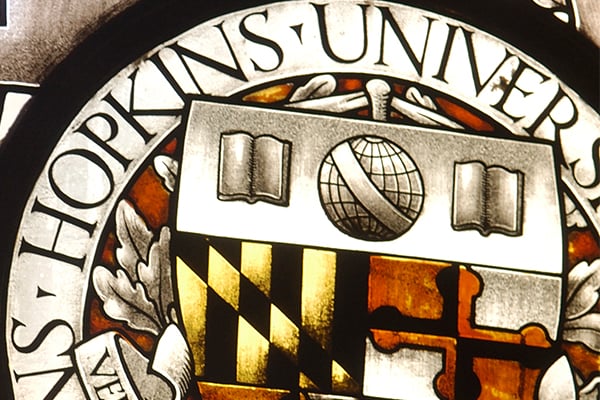 Thirty multidisciplinary endeavors have been selected to receive support this year from Johns Hopkins University's Discovery Awards program. Each project team is made up of members from at least two JHU entities who aim to solve a complex problem and expand the horizons of knowledge.
Altogether, the winning project teams—chosen from 190 proposals—include 108 individuals representing 11 Johns Hopkins entities. Notably, the partnerships engage the University Libraries and Museums for the first time in the program's four award cycles. They are joined this year by all 10 university divisions.
"This year's proposals attested to the intellectual creativity and collaborative spirit of our university," says Ronald J. Daniels, president of Johns Hopkins University. "With these awards, faculty will have the freedom to pursue new avenues for discovery with colleagues across our community, and to take up the most pressing questions we face as a society."
The Discovery Awards are intended to spark new interactions among investigators across the university rather than to support established projects. Teams can apply for up to $100,000 to explore a new area of collaborative work with special emphasis on preparing for an externally funded large-scale grant or cooperative agreement.
Projects that involve faculty within the Department of Biomedical Engineering include:
A Computational Psychiatry Approach to Investigate Effort Valuation in Major Depressive Disorder – Fernando Goes (Medicine), Vikram Chib (Medicine) & Peter Zandi (Public Health)
A Dynamical Systems Approach to Understanding the Neural Computations Underlying our Sense of Direction – Kathleen Cullen (Medicine), James Knierim (Arts & Sciences) & Kechen Zhang (Medicine)
Elucidating the Mechanism of Nucleosome Disruption by a Pioneer Transcription Factor – Carl Wu (Arts & Sciences), Greg Bowman (Arts & Sciences) & Taekjip Ha (Medicine)
Novel Methods for Non-Invasive Assessment of Myocardial Fibrosis Complexity and Disorganization to Predict Ventricular Arrhythmias – Jonathan Chrispin (Medicine), Katherine Wu (Medicine), Mauro Maggioni (Engineering), Steven Jones (Medicine), David Okada (Medicine) & Natalia Trayanova (Engineering)
Targeting Collective Invasion in Pancreatic Ductal Adenocarcinoma – Laura Wood (Medicine) & Joel Bader (Engineering)
The full list of recipients and their projects is available on the Office of Research website.