The David T. Yue, MD, PhD, Endowed Scholars Fund benefits students
October 15, 2015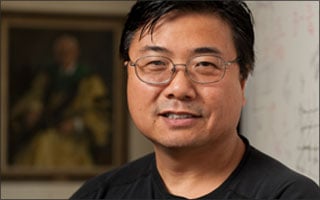 As a way to sustain the legacy of the late David T. Yue, MD, PhD, professor of biomedical engineering and neuroscience at the School of Medicine, Johns Hopkins University leaders, colleagues, and family members have established an endowed scholars fund and will host a symposium and memorial dedication in November.
Yue, who joined BME in 1988, died in December 2014 while working in his East Baltimore laboratory. An acclaimed biophysicist, biomedical engineer, and molecular neurocardiac physiologist, he focused on discovering the underlying mysteries of electrical and calcium signals, the molecular languages within neurons and cardiac myocytes.
At the time of his death, Yue and colleagues in the Calcium Signals Laboratory were pushing the frontiers of voltage and calcium signaling research by combining chemical biology, Fluorescence Resonance Energy Transfer imaging of genetically encoded optic sensors, high-resolution electrophysiology, and computational biology.
Yue received the Johns Hopkins Excellence in Teaching Award from the Whiting School of Engineering in 2009, and he was widely lauded as an exemplary mentor to young researchers. In 2015, the school created the David T. Yue Memorial Award for students and posthumously awarded Yue with the Capers and Marion McDonald Award for Excellence in Mentoring and Advising.
To sustain his legacy, Johns Hopkins has established the David T. Yue, MD, PhD, Endowed Scholars Fund. The fund will support a new scholar each year, covering a substantial portion of each scholar's first-year expenses and providing modest, direct support during the third year to support research activities.
The scholarship will be announced to the most qualified applicant as part of an acceptance package in order to encourage top BME-committed students nationwide to choose to train at Johns Hopkins. The Yue family has committed substantially to the goal of raising $1 million to establish this much-needed fund. Inquiries about joining this effort should be directed to the Department of Biomedical Engineering, or contributions can be made online.