Sureerat "Ja" Reaungamornrat named SPIE 2016 Young Scientist
March 1, 2016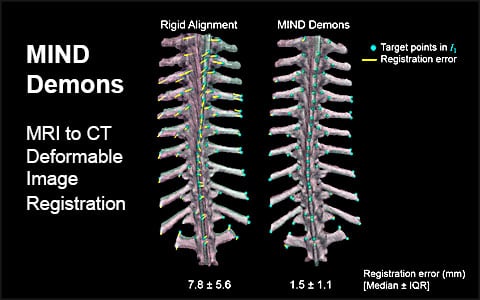 Sureerat Reaungamornrat is the recipient of this year's SPIE Medical Imaging Young Scientist Award. "Ja" — as she is better known — earned the award based on her paper entitled: "MIND Demons for MR to CT Deformable Image Registration in Image-Guided Spine Surgery." Asked about the curious title, "MIND Demons," Ja responded cheerfully: "It has nothing to do with your mind; and nothing to do with demons. It is a 3D image registration method that uses the MIND metric to compare the similarity between two images and the Demons algorithm to drive the deformable alignment."
The research offers particular promise for application in image-guided surgery, where surgical planning and visualization of the target is often performed in preoperative MRI, and high-precision surgical guidance is performed using intraoperative CT.
The MIND Demons registration method allows MRI and planning information to be deformably registered into the up-to-date intraoperative CT. Under the hood, MIND Demons yields registration results that are symmetric/diffeomorphic, is insensitive to the inherent lack of correspondence between MRI and CT image intensities, and uses a Gauss-Newton optimization for fast convergence.
Ja's paper reports the details of the MIND Demons algorithm, tests its performance in simulation, phantom studies, and clinical data, and demonstrates superior registration accuracy to other registration techniques. Translation of the method to clinical use could facilitate safer surgery with increased precision and confidence in targeting.
Jeff Siewerdsen, Professor of Biomedical Engineering and Ja's PhD advisor, shared the news with Hopkins colleagues. "This is a great achievement for Ja among a very competitive group of papers at SPIE Medical Imaging. It is also a return to the podium for Ja, who previously won the Young Scientist Award in 2014, in addition to her 1st-place finish for the SPIE Best Student Paper Award in 2014 and 2013. She has earned a very impressive string of achievements."
Jeffrey H. Siewerdsen is Professor of Biomedical Engineering with secondary appointment in Neurosurgery, Radiology, and Computer Science. Sureerat Reaungamornrat is a PhD student in Computer Science working in the I-STAR Lab and Carnegie Center for Surgical Innovation at Johns Hopkins University.