Submit your clinical and research needs to BME Design Team
January 29, 2019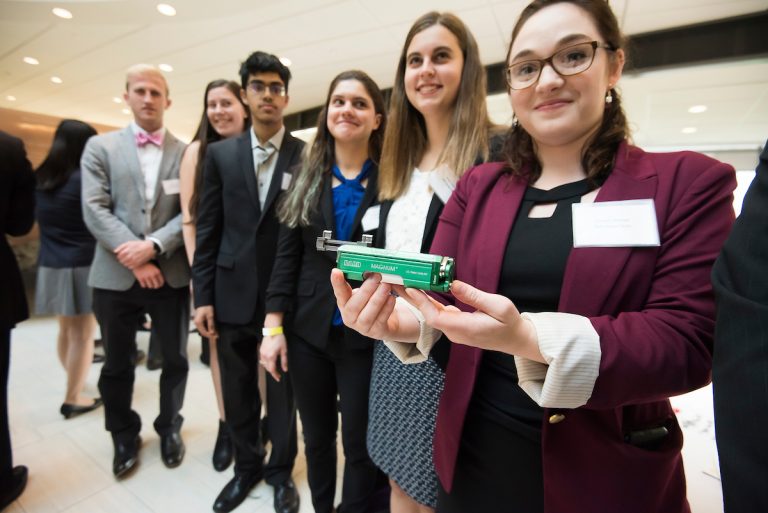 The Johns Hopkins Department of Biomedical Engineering is soliciting clinical needs for its undergraduate Design Team program. Faculty, researchers, industry professionals, and healthcare providers who are interested in harnessing the collective skill, energy, and talent of the BME student design teams have until February 13 to submit a design challenge for the next round of projects. If selected, a team of five to eight undergraduate biomedical engineering students will work with a group of medtech design and commercialization experts over the course of a year to design and test a solution.
Each year, approximately 15 teams of undergraduate students work with clinical sponsors and faculty mentors, as well as professional designers, engineers, and scientists, to define and implement an impactful project addressing a clinical or research need. Now in its 21st year, the Design Team program offers students the opportunity to create solutions to a variety of clinical challenges. This teamwork has been the basis for publications, patents, products, licensing agreements, and start-up companies.
Design teams will select their projects for the 2019-20 academic year starting this spring. They will then work toward a design solution over the next 18 months, supported by engineering, clinical, and professional mentors over the next 18 months. Throughout the course of their projects, teams will have access to the Department of Biomedical Engineering's state-of-the-art Design Studio, providing the equipment and resources they need to build and test early-stage design solutions.
Learn more about the submission process or the benefits of sponsoring a BME Design Team project here.