Featured Highlights
Students organize efforts to 3-D print PPE for the Johns Hopkins Hospital
May 28, 2020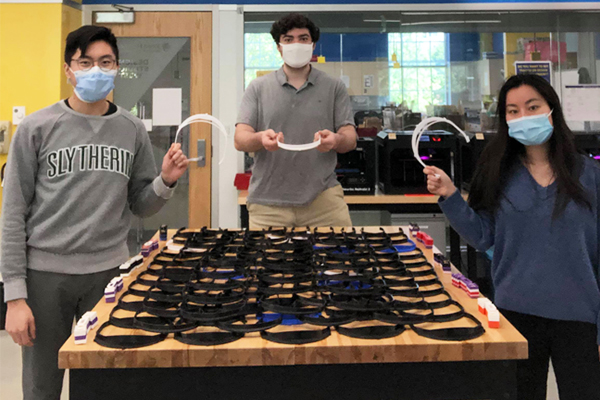 While most of his classmates were preparing for final exams and upcoming summer internships, Chris Shallal spent the end of his third year focused on a multi-campus effort to create and provide durable, reusable face shields to healthcare workers at the Johns Hopkins Hospital.
To help fill the hospital's urgent need for personal protective equipment (PPE) due to the COVID-19 pandemic, the Johns Hopkins Consolidated Service Center (CSC) recruited volunteers to assemble disposable foam face shields. Shallal, a third-year biomedical engineering student, noted that the foam headbands used for these face shields do not hold up to prolonged wear, and must be disposed after a single use because the porous material could potentially trap hazardous particles. He and his fellow engineering classmates at Health 3D, a social venture that uses 3-D printing to improve healthcare products, submitted a proposal to the Johns Hopkins COVID-19 Research Response Program detailing their plan to manufacture a more durable headband that would allow face shields to be worn multiple times.
With the help of Elizabeth Logsdon, senior lecturer of biomedical engineering, and Warren Grayson, associate professor of biomedical engineering, the team's proposal was accepted, and they were provided $10,000 to use toward printing materials. To make the headbands, the team is using extra-tough PETG filament, known for its strength and stability. It can be wiped down with basic cleaning agents such as isopropanol, bleach, or ethanol without affecting its durability.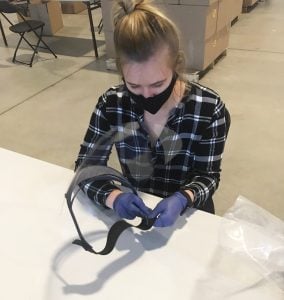 Working with the Johns Hopkins COVID-19 Command Center, Shallal built a network of approximately 30 people and more than 55 3-D printers to create the reusable headbands using a printing design created by the Johns Hopkins Applied Physics Laboratory. Once printed, the headbands are dropped off at designated checkpoints and delivered to the Central Supply Chain warehouse, where a transparent shield and elastic band are attached to complete the new, more durable face shields, which are distributed into the hospital system.
"Setting up the network included onboarding new members and providing the appropriate 3-D printing feedback to ensure they could get the shields into production," said Shallal. "Our goal is to provide 8,000 reusable shields to the Johns Hopkins Hospital network within two months."
3-D printing is adaptable and can be rapidly deployed, mainly because it does not require a large upfront cost like other industrial manufacturing methods, Shallal said. Once all non-essential in-person activities were cancelled, Shallal and his teammates realized that many of the university's 3-D printers were suddenly inactive and available for the COVID-19 response.
Between Health 3D, the BME Design Studio, WSE Manufacturing, and the Hopkins Extreme Materials Institute, the team is printing an estimated 500 headbands each week. The community volunteer network, along with a few additional Johns Hopkins affiliates, add an additional 400 headbands, bringing the typical weekly output to 900 headbands.
"This student-led team has exceeded expectations in their organization and execution of this project. We are so impressed with their passion to provide support for our Hopkins medical community, all while completing their spring semester coursework. They are an inspiration to their peers, staff, and faculty," said Logsdon.
Shallal and his team are looking to increase production by recruiting more members and activating more printers. They are also considering other manufacturing methods, like vacuum forming or industrial casting and molding.
If you have access to 3-D printers and would like to participate in this initiative, please fill out this form to get started.