Students aim to advance orthotics industry
February 22, 2017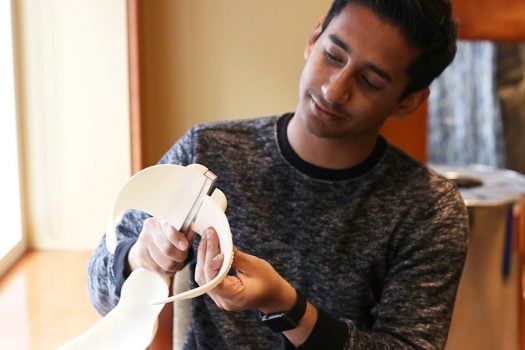 Param Shah and Alex Mathews, two undergraduate students at the Whiting School of Engineering, are combining their backgrounds in computer science and biomedical engineering to improve the orthotics industry.
The two students have joined forces to develop their startup, Fusiform, to advance the process of creating braces worn to aid movement in the feet, legs, and spine. Typically, a specialist would create a plaster mold of the body area that needs to be modified, and ship it to a custom fabricator who then manufactures the brace. The whole process takes about a month.
Fusiform's approach uses a 3D scanner to create a model of the body area. With a software program referred to as CAST, seamless communication is available between the clinic and the fabricator, reducing the time at the clinic from several hours to a few minutes. Shah and Mathews also are looking to give clinics the ability to produce devices at their locations, immediately, eliminating wait time.
"It's tackling a lot of inefficiencies in a process that hasn't been updated since the 1970s," Mathews told the Hub.
Fusiform was selected as one of six startups to take part in the Accelerate Baltimore incubator program, a four-month bootcamp that provided each team with mentoring, networking opportunities, and $25,000 in seed money. The startup also participated in the Social Innovation Lab, Johns Hopkins' own incubator program.