STEM at Stryker: BME senior Jackie Lanzaro shares internship advice
March 21, 2019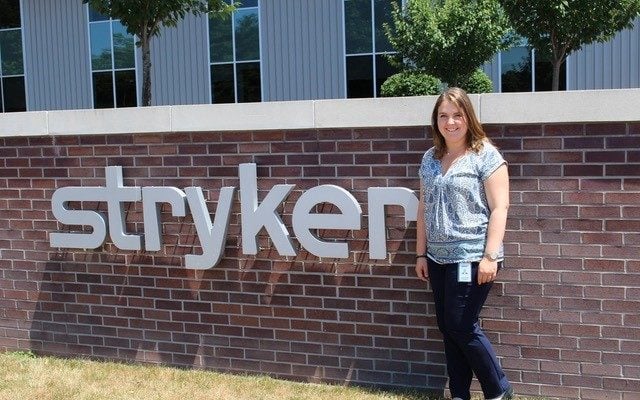 When an accident involves an ambulance, how do we determine if the cot is still viable for use? This is the sort of question Jackie Lanzaro, a senior BME major, tackled last summer. She was one of 90 interns based out of Stryker's headquarters in Kalamazoo, Michigan. She worked in the medical division. Her team in Regulatory Affairs focused on the customer quality aspect of hospital furniture and investigated complaints.
Interning at Stryker
Jackie's main project at Stryker was to update the Ambulance Accident Quality Policy. While she was technically a Regulatory Affairs Intern, her boss—who was an engineer in the industry before working at Stryker—gave her a lot of freedom to shape her role. She realized that miscommunication about the ambulance accident policy was causing problems. As a result, she pitched a solution that expanded the initial scope of the project: "It was getting everyone on the same page, which involved creating a new employee training plan for the technicians, marketing resources, even looking at the crash testing data, making sure it's clear what needs to be inspected after an ambulance gets into an accident."
Don't Be Afraid to Take Initiative
Jackie encourages other students to ask for more responsibility when they want it: "A lot of times, people are afraid others are going to shoot them down. But in a big company like [Stryker], they have so many other things on their plate. A project like the ambulance accident policy wasn't their top priority. So to have someone come in and do the work for them, they're a lot more appreciative than you would think."
Pay Attention to Company Culture
One of Jackie's main takeaways from her internship is the importance of company culture: "I realized how important it is to have a supportive culture. Stryker really likes to promote from within. They do all these things for their employees, like tuition reimbursement, things that can really help a person grow." She's learned that she values internal mobility and flexibility to try different things. There are multiple ways you can learn about company culture: through internships, volunteering, or even just a day or two job shadowing with a current employee or alumnus.
Seek Out Mentors
While at Stryker, Jackie was encouraged to explore a wide range of job opportunities. She ultimately met with about 30 engineers: "Every day, sometimes twice a day, you would set up these one-on-one meetings. You would pick someone in Michigan, or even at another location, and have a thirty-minute conversation with them about how they got to this point, what they do for their job, and how they like it."
She recommends that students spend time developing their communication skills before their internships. For Jackie, this took place through the BME Undergraduate Design Team program: "You have to do a lot of talking with different faculty members. You need people's advice, and you need to talk to clinicians." If you feel nervous about this, consider practicing with InterviewStream. Even if you're not interviewing, it will help you practice answering questions and look at how you physically present yourself.
Prep Before Meeting Potential Mentors
Do your research before meeting people. Whenever she's talking to someone for the first time, she tries to find something she has in common with that person to use as a conversation starter. "If they're taking the time to meet with you, you should have your questions ready to go," she says. "You should know their background and ask relevant questions."
This interview was originally posted by the Johns Hopkins Career Center.