Sorger heads up medical research at Intuitive Surgical
November 4, 2013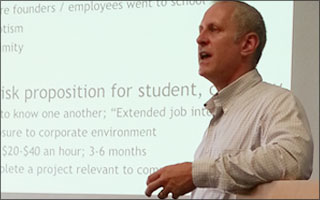 Jonathan Sorger, 39, earned his BME PhD in 2004, and a Hopkins master's degree in business the following year. Four years ago, he joined Intuitive Surgical Inc., a California-based maker of equipment for minimally invasive surgery, as the director of medical research.
In that job, Sorger helps physicians use the company's da Vinci Surgical System, which provides real-time, high-definition 3D imagery and dozens of attachments for laparoscopic surgery. The systems, including several owned by Johns Hopkins, are used in more than 40 different types of procedures, primarily for hysterectomies and prostate surgeries.
Physicians from around the world contact Sorger and members of his group to ask whether the da Vinci system can be used for a particular procedure. Sorger's job is to assess whether the surgical system will provide benefits to patients and surgeons, particularly in relation to imaging.
When he was a BME student, Sorger's specialty was magnetic resonance imaging, including the use of MRIs to evaluate cardiac changes following gene and cellular therapy. After graduating and returning to his native California with wife Nicole, Sorger found a post as a lecturer at Stanford University, teaching biomedical engineering to first-year doctoral students in the founding years of the school's bioengineering department.
From there, he took a job at Varian Medical Systems in Palo Alto. "My job was mostly about coming up with plans for leveraging and licensing academic research," he explains. The experience let him use his business expertise, but he wanted to work for a smaller, more nimble firm. When he transitioned to Intuitive, he went from a company with about 5,000 employees to one with about 1,000.
Intuitive, founded in 1995, still has the culture of a startup, says Sorger, who recently visited Hopkins to speak with BME doctoral students. He plans to return in November to partner on an experiment. His work combines his interest in business development with the imaging expertise he gained at Johns Hopkins. "It's like the job description was written for me," he says.