Society for Neuroscience awards Lindsley Prize to David Herzfeld
November 14, 2017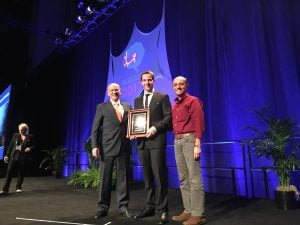 The Society for Neuroscience has awarded the Donald B. Lindsley Prize in Behavioral Neuroscience to David Herzfeld, a postdoctoral fellow in the Department of Biomedical Engineering at Johns Hopkins University. In recognition of his outstanding PhD thesis in behavioral neuroscience, this award was presented to Herzfeld at SfN's annual meeting on November 13.
"It is an honor to recognize Dr. Herzfeld for his significant contributions to the understanding of motor learning and control," said SfN President Eric Nestler.
More from the Society for Neuroscience:
Using mathematical formulations, Herzfeld has shown how the brain systematically controls how it learns from error. He is credited with two important discoveries: First, he introduced the concept of memory of errors, which holds that the experience of error results in learning. This idea represents a breakthrough in understanding how humans and animals are able to earn motor control and was published in Science in 2014. Second, in collaboration with colleagues at the University of Washington, he developed a solution to the problem of neural coding of movements in the cerebellum, analyzing data from Purkinje cells to cluster them into small populations that collectively presented to have individual functions. The study, which illustrated the neurophysiology of the cerebellum, was published in Nature in 2015.