PhD student Sohail Zahid receives NSF Graduate Research Fellowship
April 9, 2015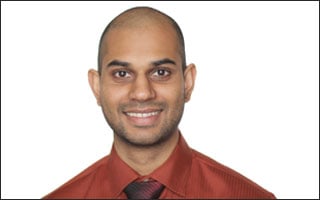 Sohail Zahid, a PhD student in the Computational Cardiology Lab of Dr. Natalia Trayanova, has been selected to receive a 2015 National Science Foundation (NSF) Graduate Research Fellowship. The selection was based on Sohail's demonstrated potential to contribute to strengthening the vitality of the US science and engineering enterprise.
Sohail will receive a monthly stipend of $34,000 for 2015-16 along with a $12,000 Cost of Education Allowance, which will be paid to Johns Hopkins in lieu of all required tuition and fees for each of the three years.
Zahid commented, "I am incredibly honored to receive this award. Hopkins is a wonderful place where many researchers are on the frontier of scientific discovery. I am fortunate to learn in such an amazing atmosphere."
Zahid's research focus is to noninvasively identify where atrial arrhythmias occur using patient-specific, MRI-based computer models. These unique models are then used to identify the mechanisms behind these heart rhythm disorders and investigate potential ablation therapies which can be translated to improve clinical outcomes.
The Department of Biomedical Engineering congratulates Sohail on his selection as an NSF Graduate Fellowship awardee and wishes him continued success in his graduate studies.