PhD candidate Randall Meyer receives multiple honors
August 23, 2016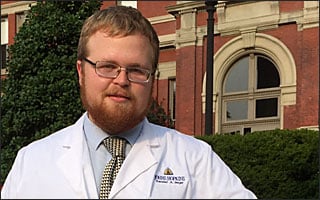 In recent months BME graduate student Randall Meyer has received multiple honors by notable organizations: a National Institute of Health NCI National Research Service Award Fellowship, an ARCS named scholar award, and a BMES graduate student award for research abstract.
NIH NCI NRSA for Individual Predoctoral Fellows (F31)
Meyer was selected to receive the NIH National Cancer Institute's Ruth L. Kirschstein National Research Service Award (NRSA) for Individual Predoctoral Fellows (NIH F31). The NIH F31 award funds promising doctoral candidates who are at the dissertation research stage of training in a scientific health-related field relevant to the mission of the NCI (National Cancer Institute) during the tenure of the two-year award.
Randall, working in collaboration with Dr. Jonathan Schneck, is developing biomimetic artificial antigens made of synthetic particles and recombinant proteins. The antigens mimic the signal presenting cells for cancer immunotherapy by directing the immune system to attack the cancer-causing pathogen.
ARCS Foundation Jones Group Scholar
Meyer was recently named a 2016–2017 Jones Group Scholar of the Metropolitan Washington Chapter of Achievement Rewards for College Scientists (MWC/ARCS) Foundation. This named scholar designation was based on Meyer's academic achievements.
Randall will also represent the Metro DC ARCS Chapter as an ARCS Foundation Named Scholar.
BMES Graduate Design and Research Award
Randall has been selected to receive a BMES Graduate Design and Research Award by the Biomedical Engineering Society for the research paper, "Focused Ultrasound Mediated Drug Delivery from Polymeric Perfluorocarbon Nanoemulsions for Noninvasive Neuromodulation." This abstract discusses nanoparticle technology for neuromodulation.
The technology couples recent advances in cranial-focused ultrasound with drug delivery techniques for focal, noninvasive neuromodulation. While the intravenously administered nanoparticles would reach everywhere in the body, only those nanoparticles targeted with focused ultrasound would release
their propofol and exert a neurosuppressive effect.
The result would be targeted noninvasive suppression of neural activity which could be used in basic and clinical neuroscience applications.
The technology was developed by The Green Group in collaboration with Dr. Raag Airan of Stanford University.
Randall will receive an award certificate and present his abstract at the October 2016 BMES conference in Minneapolis.