Nitish Thakor and BME alumni spinoff, Vasoptic Medical, secure Phase II funding from the Wallace H. Coulter Foundation
October 21, 2013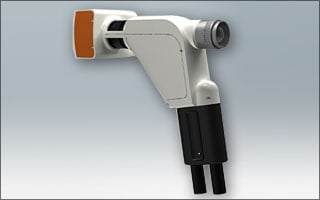 A translational team led by Nitish Thakor (Professor of BME) and his former students, Abhishek Rege (alumnus of the BME PhD program) and M. Jason Brooke (alumnus of the BME MSE program), has secured follow-on (Phase II) funding from the Wallace H. Coulter Foundation to commercialize a low-cost and portable retinal imager that will permit early detection of diabetic retinopathy in primary care settings. The clinical team comprises Drs. Peter Gehlbach and Ingrid Zimmer-Galler, both retina specialists at the Wilmer Eye Institute.
Diabetic retinopathy is a vision-threatening condition that affects nearly one in three diabetics and can be managed effectively if detected early. Central to early diagnosis is the ability to screen patients in primary care environments using affordable and convenient instruments and procedures. To solve this problem, the team will use intellectual property based on laser speckle contrast imaging that can probe retinal blood vessels for their morphological and physiological status.
The team first secured the Coulter Translational Research Award in 2011. The Phase I award supported both technology development as well as the undertaking of preclinical experimentation most critical to the commercialization of the technology. During this time, Abhishek and Jason started Vasoptic Medical, Inc., which has licensed this JHU technology and is now facilitating its commercial development and path to market. The Phase II award was made after successful biannual progress reviews and determination of commercial viability. The Phase II award will allow the team to advance product development and conduct early feasibility testing in a clinical study at the Wilmer Eye Institute.