NIH Funds JHU Pre-Doctoral Training Program in Computational Medicine
July 21, 2017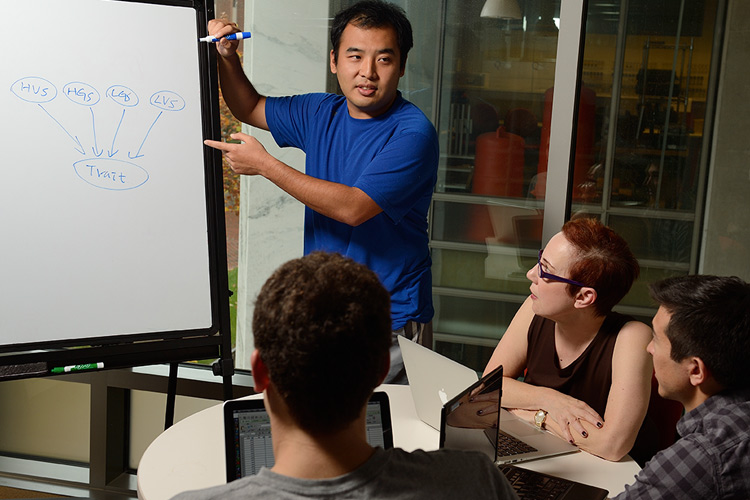 The Institute for Computational Medicine has received federal funding for its Pre-Doctoral Training Program in Computational Medicine. This Ruth L. Kirschstein National Research Service Award (NRSA), from the National Institute of General Medical Sciences (NIGMS), will support trainees from the departments of Biomedical Engineering and Applied Mathematics & Statistics.
Program Director Raimond L. Winslow, Raj and Neera Singh Professor of Biomedical Engineering, and Co-Director Feilim Mac Gabhann, Associate Professor of Biomedical Engineering, along with stellar faculty mentors from across the Johns Hopkins Whiting School of Engineering and the School of Medicine, have designed a program that will prepare graduates to fill the growing need for researchers trained in computational medicine in both industry and academia.
Program members will be part of an exceptional and distinctive community of students and faculty exploring the vast possibilities of computational medicine. Trainees selected for the program will learn how to develop models of biological systems in health and disease, constrain these models using data collected from patients, and apply models to deliver improved diagnoses and therapies. Trainees will learn through a combination of focused coursework and dissertation research in the laboratories of program faculty.
The Institute for Computational Medicine has also established novel undergraduate programs to create a diverse applicant pool of students with research experience in program faculty labs for the new predoctoral training program. The ICM is thrilled to have the support of NIGMS to increase opportunities for trainees at the undergraduate and graduate level.