Meet Bailey Surtees, BME alumna and research assistant
March 23, 2018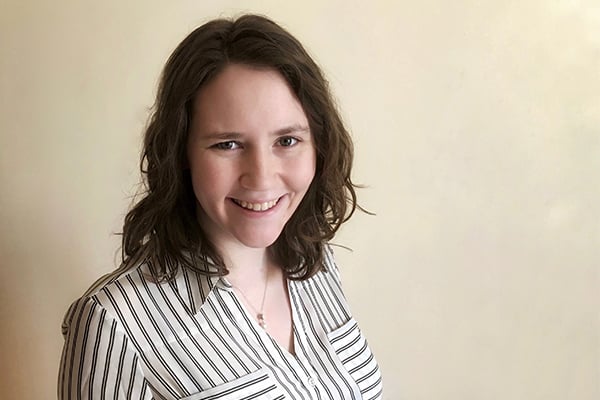 Bailey Surtees '17 has been making an impact on global health since she was an undergraduate studying biomedical engineering at Johns Hopkins, where she and a team of fellow students began developing a low-cost treatment for breast cancer as part of the BME Design Teams course. After earning her degree in 2017, she joined the department as a research assistant to continue advancing the team's goal of implementing their technology in low-resource areas of Africa. The project is now in its third year, with Surtees as its leader.
Surtees and her team, Kubanda Cryotherapy, created a cryoablation device that freezes and kills breast cancer cells. Unlike the cryoablation technologies used in American hospitals, which rely on expensive argon or nitrogen gases, Kubanda Cyrotherapy's device uses carbon dioxide to eliminate tumors at a fraction of the cost. The team is working with clinics in rural South Africa to hone their device, hoping to provide much needed therapy to women who otherwise lack access to treatment.
Other members of Surtees' team include BME students Tara Blair, Serena Thomas, Pascal Acree, Evelyn McChesney, Shivam Rastogi, and Grace Kuroki, as well as BME alumna Yixin Clarisse Hu.
In this interview, Surtees talks about the cryoablation project, her experiences in Africa, and the ways in which BME Design Teams shaped her life.
How did your team begin working on this project three years ago?
Our work began in the BME Design Teams course, which invites Hopkins clinicians to pitch large-scale problems to the student teams, who then decide which project they want to work on. We chose the global breast cancer care project and began to work with Dr. Susan Harvey, director of breast imaging at Johns Hopkins Hospital. Originally, the project centered on the idea of developing a low-cost ultrasound transducer for low-resource settings. However, that changed after then-team leader Monica Rex went to South Africa with Dr. Harvey. A huge part of our Design Teams program is making sure that we are addressing the right issue, and after further examination, we realized the biggest issue wasn't the diagnosis as much as it was the access to treatment itself. Monica saw that the cost and logistics of getting to the health facility and recovering from treatment were prohibitive to the point that women generally choose not to pursue treatment.
From there we explored how we could bring treatment to the women who desperately needed it—we looked at everything and decided we couldn't use high-cost machines like those used for radiation treatment, nor rely on accessibility to anesthesia or a reliable stream of consumable resources, such as those necessary for chemo or hormone therapy. From this filtering, we settled on further exploring cryoablation, or the use of cold to kill cells.
After our first year of work, it was clear that we were on to something with the potential to change the lives of women worldwide. I decided to continue the project with my own design team over the summer and during the '16-'17 school year. Thanks to the resources and support at Hopkins, we've been able to progress even further to where we are now.
Can you describe your experiences in Africa?
I went to South Africa with our clinical sponsor, Dr. Harvey, and another senior team leader, Allie Berges '17. We spent two weeks in Johannesburg, Cape Town, and Hoedspruit. While there, we examined everything we could, from the hospitals in the city to the clinics outside of rural villages, and spoke to stakeholders at all levels. We took notes on everything, and used root cause analysis to evaluate the needs—and the causes of those needs—that we saw. I received feedback on our initial prototype and learned about the devices the clinics were already using to treat other diseases such as cervical cancers. Even though we already had a good idea of the needs of our patients, discussions with the doctors, nurses, residents, and rural health care workers allowed us to better define the needs of our users, our implementers, and the communities we hoped to serve.
What is the current status of the project?
We've accomplished a lot since I graduated last May. We won a $100,000 Women's Health and Breast Cancer Innovation grant from Under Armour. We completed rat studies demonstrating that our device is capable of killing breast cancer tissue, and we started to receive initial results from pig studies showing that our device is capable of causing cell death in tumor-sized lesions under a large heat load. We're also drafting a manuscript with our mentor Dr. Nicholas Durr that we hope to publish in the next month or two.
We're basically at a point now where our technology has been validated, and the next step is to continue testing in a veterinary setting and scale up until we eventually begin clinical trials. That used to seem like a far-off dream, and while we're still some ways down the road, it's now a very real prospect that could happen in the coming years.
What is your goal for the project?
In the future, we hope that our device can allow women in even the most remote areas to have access to breast cancer treatment. We see a future in which women of low- or middle-income countries can be screened, diagnosed, and treated in a single day at their local clinic, and leave with nothing more than a Band-Aid. There are other amazing people at Hopkins, like Dr. Susan Harvey and Dr. Saraswati Sukumar, who are working on the first part of that pathway, and our goal is to complete the treatment side of things.
How have your design experiences influenced you?
This is the type of work I've dreamed of doing since I was a little kid. The fact that I'm working at a world-class institution at the age of 23, living my dream, and creating something with the potential to be life-changing for so many underserved people is mind blowing. I cannot praise our design program enough. With the tools learned here and the amazing work I see being done around me, I can only imagine what my peers will be doing 20, 30, or 40 years from now.
The design experience has greatly impacted and inspired me. I've learned how to manage a team and a project, how to ask the right questions, and how to be a better engineer and problem solver by looking for the true needs that people are facing. It's taught me how to be more efficient and effective when serving both the people I design for, as well as those I design with—my team and our mentors.