Mapping highways in the brain
November 6, 2014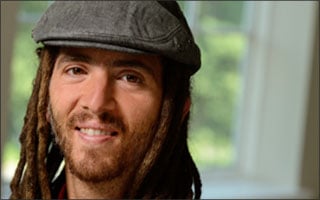 Assistant Professor Joshua Vogelstein of the Johns Hopkins Department of Biomedical Engineering is a true Hopkins man. He was born at Hopkins. He went to camp at Hopkins. His father is a doctor at Johns Hopkins Hospital. After earning a bachelor's degree at Washington University in St. Louis, he returned to Homewood for both of his graduate degrees — an MS in applied mathematics and statistics, and a PhD in neuroscience. In August, he completed the cycle, becoming the newest member on the faculty of the Department of Biomedical Engineering.
Vogelstein is a statistician and a neuroscientist by training, but his field is connectomics. He is helping to decipher the intricate and important circuits — the connections — of the human brain. He is applying complex statistical and computational methods and modern brain imaging techniques to map the complex neurological connections of the brain's trillions of synapses.
"We currently believe that all brain function is at least partially determined by its connections, but science is essentially clueless with regard to how they are connected and function," Vogelstein says. "Figuring out how they work is key to discovering how they fail, and that knowledge is key to understanding mental illness."
Vogelstein's career is off to a lightning start. Recently, he and Randal Burns, an associate professor of computer science, both at the Whiting School of Engineering, were named as part of a multi-institution team that earned an $8.5 million Transformative Research Award from the National Institutes of Health to unravel the mysteries of synapses, the connections in the brain.
"Our aim is to map the brain's neural highways and to discover what causes traffic jams along the way to help people with some pretty debilitating diseases," Vogelstein says. "We have a true open-source philosophy about it all. We're giving away our data and our algorithms to anyone who wants to use them to further scientific understanding of the brain."
— Andrew Myers