Kavli names nine fellows and three visiting scientists
April 11, 2017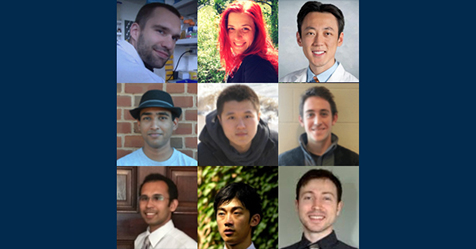 The Kavli Neuroscience Discovery Institute, part of the Department of Biomedical Engineering at Johns Hopkins University, will be training future scientists and engineers through its 2017 NDI Postdoctoral Fellows program. Nine fellows have been selected to be mentored by faculty members from Johns Hopkins with distinct expertise in neuroscience, engineering, or data science.
This program was established to provide a cross-disciplinary training platform for postdoctoral fellows through the support of bold research. It aims to foster groundbreaking discoveries while equipping fellows with interdisciplinary skills and mindsets for their future careers.
Applications were reviewed by a panel of expert internal investigators, along with members of the Kavli NDI Steering Committee. The reviewers considered scientific merit, innovation, the extent to which the proposed project aligns with the Kavli NDI mission, and the potential for the work to have a transformative impact on the field of neuroscience.
The nine fellows include:
Simon Allard: Imaging cholinergic fiber activation

PI: Marshall Hussain Shuler, Department of Neuroscience
Co PI: Michael Miller, Department of Biomedical Engineering
Audrey Branch: Three-dimensional analysis of newborn neuron integration in aging

PI: Michela Gallager, Department of Psychological and Brain Sciences
Co PI: Joshua Vogelstein, Center for Imaging Science
Jonathan Ling: Mapping the hidden transcriptome in retinal differentiation

PI: Jeffrey T. Leek, Department of Biostatistics
Co PI: Seth Blackshaw, Department of Neuroscience
Manu Madhav: Stabilizing the cognitive map with real-time feedback in virtual reality to quantify the influence of optic flow

PI: James Knierim, The Zanvyl Krieger Mind/Brain Institute
Co PI: Noah Cowan, Department of Mechanical Engineering
Bo Ning: Development of head-mount fiber-optic platform for two-photon imaging of freely walking animals

PI: Xingde Li, Department of Biomedical Engineering
Co PI: Dwight Bergles, Department of Neuroscience
Pierre Sacre: Neural correlates during human decision-making: The integration of rational reasoning and internal biases

PI: Sridevi Sarma, Department of Biomedical Engineering
Co PI: Ernst Niebur, Department of Neuroscience
Janaka Senarathna: NeuroSCOPE – A wireless miniature microscope for brain imaging in freely moving animals

PI: Arvind Pathak, Department of Radiology
Co PI: Nitish Thakor, Department of Biomedical Engineering
Xindong Song: Chronic calcium imaging of auditory cortical neurons in awake marmosets with quiet two-photon microscopy and a scalable data workflow

PI: Xiaoqin Wang, Department of Biomedical Engineering
Co PI: Randal Burns, Department of Computer Science
Daniel Tward: MR micro imaging and three-dimensional histology: Integrating neuroimaging data across scales

PI: Michael Miller, Department of Biomedical Engineering
Co PI: Juan Troncoso, Department of Pathology, Division of Neuropathy
In addition to these fellows, Kavli has selected three scientists to participate in its Visiting Scientists Program, which was developed to foster global collaborations between Kavli NDI members and internationally renowned scientists.
Visiting scientists will share their expertise and stimulate interdisciplinary scientific interactions that advance our understanding of the structure and function of the brain.
The three visiting scientists and their projects include:
Juan Goutman (INGEBI CONICET, Universidad de Buenos Aires): Structure and function analyses of how calcium influx, endoplasmic storage, and release may contribute to synaptic function
Menachem Hanani (Hebrew University-Hadassah Medical School): Advanced methods to determine glial cells influence on nerves, pain transmission, and sensation
Menno Witter (Kavli Institute for Systems Neuroscience/Norwegian University of Science and Technology): Development of a common representation of structural data on animal models, AD patients, and healthy humans focusing on the entorhinal-hippocampal system
The fellows and visiting scientists will be recognized at the Kavli Neuroscience Discovery Institute Postdoctoral Award Symposium on Wednesday, April 12 from 3 to 5 p.m. in the Mountcastle Auditorium on the School of Medicine campus.