Kathleen McDowell places first in GRC poster competition
February 22, 2013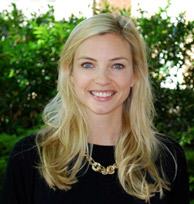 Kathleen McDowell, JHU Biomedical Engineering graduate student in the School of Medicine, placed first in the student poster competition at the Gordon Research Conference ("GRC") on Cardiac Arrhythmia Mechanisms. The conference was held in Ventura, CA in February 2013 and focused on integrating basic and translational science with clinically relevant topics.
Kathleen's research "Investigating the Arrhymogenic Effects of Atrial Fibrosis in Patient Specific Models," shows how the uneven distribution of fibrotic remodeling in the atrium plays a role in arrhythmogenesis. Kathleen is a member of the JHU Computational Cardiac Electrophysiology Laboratory working with Natalia Trayanova, Murray B. Sachs Professor in the Department of Biomedical Engineering and Institute for Computational Medicine. Dr. Trayanova stated that this "was a huge win in a conference which is considered to be the most important in our field, cardiac arrhythmia mechanisms research. Kathleen was selected as the winner among more than 60 trainees in the poster competition."
According to its website, the GRC on Cardiac Arrhythmia Mechanisms draws participation from national and international graduate students, postdoctoral fellows and senior faculty working in academia or in industry that share a common interest in the fight against cardiac arrhythmias and sudden cardiac death. Leading experts and young investigators present and together discuss exciting, cutting-edge research, from the gene/molecule to the bedside that seeks to improve understanding of the mechanisms, diagnosis and treatment of cardiac arrhythmias.