Jourdan Ewoldt earns top prize at BMES Undergraduate Research Day
March 21, 2017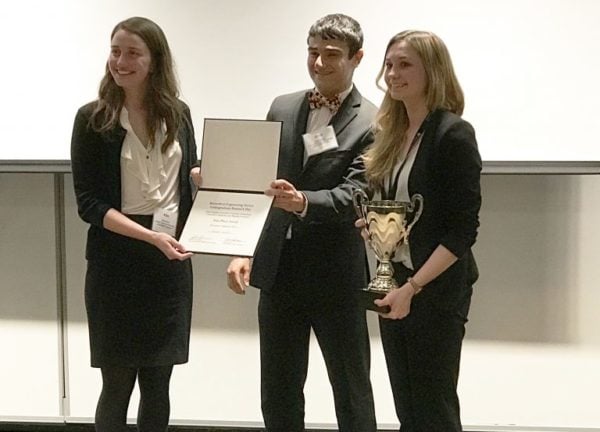 Biomedical Engineering senior Jourdan Ewoldt, shown at right, took home the first place award at the 2017 Biomedical Engineering Society Mid-Atlantic Undergraduate Research Day on March 10. Hosted this year on the Homewood campus by Johns Hopkins University, the BMES event attracted students from several nearby universities including the University of Maryland, the University of Delaware, and Widener University.
The day began with a keynote speech by Nicholas Durr, assistant professor of biomedical engineering and undergraduate program director of the Center for Bioengineering Innovation and Design at Johns Hopkins, and included a poster session, a networking lunch, student oral presentations, and an award ceremony.
Ewoldt works in BME Interim Director Leslie Tung's Cardiac Bioelectric Systems Laboratory, at the School of Medicine, which focuses on the physiological and pathophysiological function of cardiac cells.
In her prize-winning project, titled "Quantification of Myocardial Extracellular Matrix Fiber Structure," she quantified and demonstrated how the fiber structure of cardiac tissue varies in different regions of the heart.
The lab removes cellular content from cardiac tissue to create a scaffold for cardiac cells in engineering cardiac tissue. Ewoldt quantified this scaffold structure in order to understand how it affects the function of the engineered cardiac tissue. This enabled her to demonstrate how the fiber structure varied across the organ.
"It was a great experience seeing the research being done at nearby universities, and I am really grateful for all of the mentoring that I have received from Dr. Tung's lab in this project," says Ewoldt.