Johns Hopkins senior Alaleh Azhir named Rhodes Scholar
November 20, 2018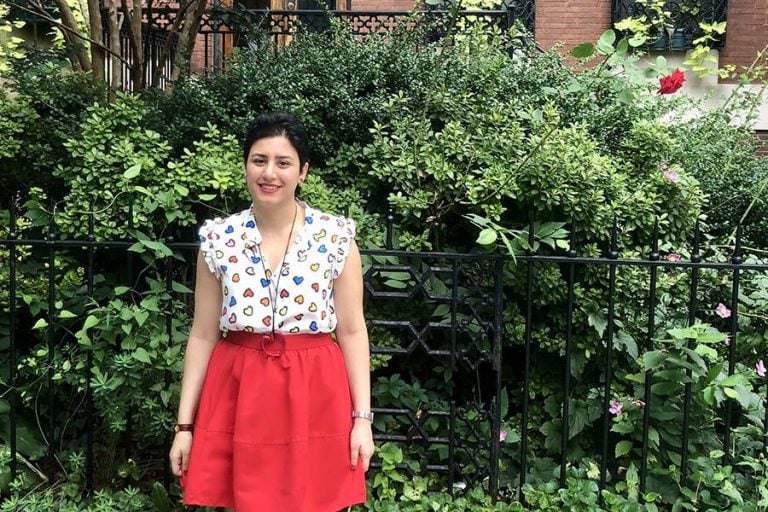 When Alaleh Azhir came to the United States at age 14 from Iran, she discovered that she was already fluent in a language that transcends both borders and cultures: mathematics.
A seasoned participant in math competitions in her hometown of Mashhad, Iran, she began competing in the U.S. as a way to meet people.
"Being able to speak the language of math better than English helped me find friends and allowed me to adjust to my life here better—which drove my interest in mathematics further," she says.
On Saturday, the Johns Hopkins senior—who has a triple major in biomedical engineering, computer science, and applied mathematics and statistics—was awarded a Rhodes Scholarship, which is among the oldest and best-known awards for international study.
Established in 1902, the Rhodes Scholarship recognizes students on the basis of outstanding academics and leadership, and winners receive full funding to pursue a degree at Oxford. Azhir was one of 32 American students to be selected for the award from an applicant pool of 880.
"This year's American Rhodes Scholars—independently elected by 16 committees around the country meeting simultaneously—once again reflect the extraordinary diversity that characterizes the United States," says Elliot F. Gerson, the American Secretary of the Rhodes Trust. "Almost half of the winners are immigrants themselves or first-generation Americans. … They are certain to enrich our future."
At Oxford, Azhir will work toward her master's degree in women's and reproductive health—a field that combines her love of math, data, and statistics with her interests in health, biology, and the human genome. Given advances in data collection, storage, and computational analysis, along with decreases in costs, Azhir sees genomics as a health care field of the future.
"In a decade or two, genomics will be part of routine health care," she predicts.
While at Oxford, she will use data collected by the United Kingdom's National Health Service to understand how difficult pregnancies contribute to heart problems for women in later life. She hopes to use NHS data to create models that help predict—and prevent—these health outcomes.
Studying data from the NHS is a unique opportunity for Azhir because a national, uniform health coding system does not exist in the U.S.
"Conditions common to men and women may present differently in women—for example, women often get misdiagnosed for heart attacks," she says. "I want to dedicate my career to understanding those health disparities."
Azhir has conducted research in labs at Harvard, the École Polytechnique Fédérale de Lausanne in Switzerland, the National Institutes of Health, and here at Johns Hopkins.
"Alaleh was a standout student in my Biological Models and Simulations class, a challenging theoretical course offered in the Department of Biomedical Engineering," says Michael Beer, an associate professor at Johns Hopkins. "She received rave reviews for her work as a teacher's assistant for my classes and has been extremely productive in her laboratory research. Alaleh is truly a force of nature and embodies the best of the human spirit. I'm exceedingly proud of her win."
Azhir says she's also looking forward to the opportunity to travel—to experience that change in culture and environment that she experienced as an immigrant.
"It's a nice experience to be an outsider," she says. "You learn a lot about the culture, and even more about yourself."
Students interested in applying for the Rhodes or other competitive awards should contact the the university's National Fellowships Program.
– Saralyn Cruickshank