Johns Hopkins launches BME EDGE
November 2, 2013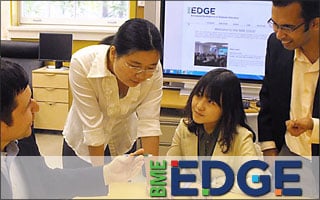 A new center at Johns Hopkins University aims to help some of the world's top biomedical engineering researchers navigate their next career moves into jobs with academia, government agencies, or private industry.
Launched with a $150,000 PhD Innovation Initiative grant from the Office of the Provost, BME EDGE (Extramural Development in Graduate Education) will act as a command center for the professional development of BME doctoral students. The center will coordinate internships, sponsor career fairs, and host professional development activities such as a speakers series.
"EDGE is a great way to provide BME PhD students the opportunity to enrich their experience at Johns Hopkins," says BME Department Chairman Elliot McVeigh. "By participating in BME EDGE, our PhD students have the chance to better understand the full complement of skills necessary to pursue a career in academia, industry, or government."
According to the U.S. Labor Department, employment of biomedical engineers is expected to grow by 62 percent from 2010 to 2020, much faster than most occupations, and many jobs are being added in industry and government agencies.
Shiva Razavi, who is pursuing her doctorate in biomedical engineering, helped conceive the idea for BME EDGE while serving on the BME PhD Council last year. She worked with fellow student Iraj Hosseini to develop a plan, which they presented to the Provost's Office. They were awarded the grant after a competitive selection process.
Razavi says she is interested in pursuing an academic career but is keeping her career options open because of the current imbalance in supply and demand in the academic market. Before she helped launch BME EDGE in March, doctoral candidates had few avenues to explore careers outside academia. In the last decade, however, more than two-thirds of BME doctoral students sought employment in government agencies or industry.
"We realized there is definitely a need for training PhD student for careers outside of academia," says Razavi.
BME EDGE has three components: internships, career fairs, and professional development (which includes a series of talks by alumni and executives). The internship program is headed by new PhD Christopher Smith and second-year doctoral student Peter Boutros, who aim to provide internship opportunities, each between three and six months, starting in May 2014. They are talking to companies across the United States, as well as to government agencies and even other universities, and hope to have a list for students to look at by January, Smith says.
BME EDGE also is laying the groundwork for a spring career fair that will involve the entire Hopkins PhD community, not just BME candidates, says Razavi. Two BME alums — Jonathan Sorger, PhD '04, director of medical research for Intuitive Surgical, and Malcolm Lloyd '94, founder of Old Nassau Imports — already have returned to campus to talk about their careers and offer advice.