Johns Hopkins co-organizes first international meeting on brain health
October 5, 2017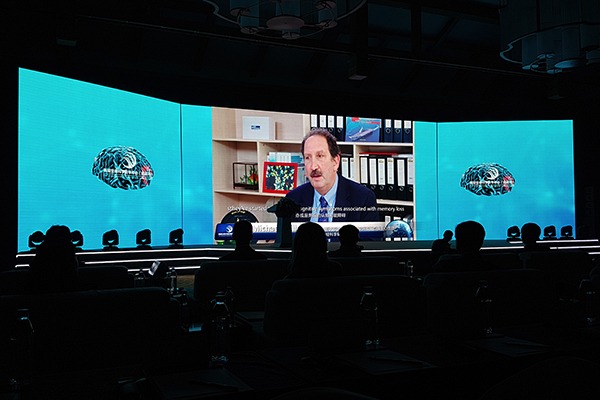 Rong Li was visiting China last summer when she received an intriguing inquiry from a group in Beidaihe for help developing the first Asia Pacific Smart Healthcare Demonstration Zone. Li, Bloomberg Distinguished Professor of Cell Biology and Chemical and Biomolecular Engineering, met with directors of the project, led by the United Nations Office of Project Services (UNOPS) and local government, and was promptly named a scientific adviser. One of her first suggestions was an international conference in Beidaihe focused on brain health and neurodegenerative diseases, a prime area of interest for the Chinese.
About 300 people attended the meeting, held July 31 through Aug. 2, which also covered basic research, translational medicine as well as the intersection of arts and the mind. UNOPS and Johns Hopkins co-organized the conference with the Chinese Brain Tissue Library Cooperation Alliance and the Chinese Academy of Medical Sciences Neurology Center.
"It was a wonderful three days," says Michael Miller, director of the Department of Biomedical Engineering, who presented on using MRI to track neurodegeneration. Li discussed mitochondria's role in helping cells to dispose of damaged proteins. Seven other Johns Hopkins faculty members addressed the group: neuroscience researcher Richard Huganir, on the regulation of synapses in neurological and psychiatric disorders; neurology researcher Marilyn Albert, on understanding the earliest phase of Alzheimer's disease; psychiatry researcher Christopher Ross, on the history of Huntington's disease; pathology researcher Philip Wong, on the TDP-43 protein in neurodegenerative diseases; neurologist Ted Dawson, on translating the molecular pathogenesis of Parkinson's disease into new therapies; neurologist Thomas Lloyd, on cell disruption in neurodegenerative diseases; and pathologist Juan Troncoso, on alpha beta brain waves before plaques and tangles develop.
"What I really liked about it was it was broad, covering a lot of ground from very basic research to clinical research and device development," Li says. "It was very cross-disciplinary, and nice for people to get exposed to what's going on outside of their immediate area and think bigger than what they're used to."
The organizers discussed the possibilities of a follow-up conference in Holland or another in China focused on cancer and the potential for educational exchanges for students. A delegation from China plans to visit Johns Hopkins in October.
– Karen Blum