Johns Hopkins BME junior named Goldwater Scholar
April 25, 2018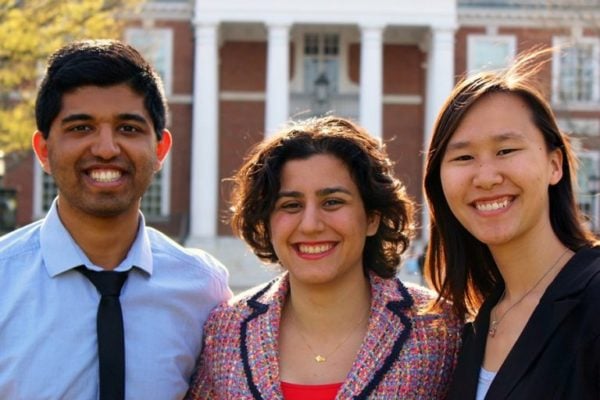 Alaleh Azhir, a junior biomedical engineering major, is one of three Johns Hopkins students named a Goldwater Scholar for the 2018-19 academic year. Junior Rohan Panaparambil received honorable mention.
Established in 1986, the Goldwater Scholarship was one of the first significant national scholarships focusing on STEM fields (science, technology, engineering, and math). Winners are nominated by their schools and selected for their academic merit. This year, 211 scholarships were awarded to students from an applicant pool of 1,280.
The program awards winners $7,500 to apply toward tuition, fees, books, and room and board. The national recognition has also been known to give students a competitive edge when pursuing graduate fellowships in their fields.
2018–19 Goldwater Scholars from Johns Hopkins
Alaleh Azhir is a biomedical engineering major with additional majors in computer science and applied mathematics and statistics. Her research focuses on building novel visualization and analysis tools to find hidden patterns in large genomic datasets and exploring the application of such tools in a clinical setting for diagnostic or therapeutic purposes. Azhir has worked in David Nauen's pathology lab, creating a platform for visualization of shared sequences within splice variants. In addition, she has explored various types of genomic data visualizations through summer internships at the National Institutes of Health, Harvard Medical School, and the École Polytechnique Fédérale de Lausanne in Switzerland. Azhir participates in a range of campus and community activities, serving as the creative chair for Art Brigade and the senior editor for the Prometheus philosophy journal. She plans to pursue a career in medicine while devoting a portion of her time to research.
Rohan Panaparambil is a biomedical engineering major who received an honorable mention in the Goldwater competition. Over the last three years, he has been a part of the project to design an artificial intestine at the Hackam Lab. Currently he is taking a semester-long leave of absence to study cholesterol metabolism in the Brown/Goldstein lab at the University of Texas Southwestern Medical Center in Dallas. He plans to pursue an MD/PhD in metabolic engineering and aims to design novel therapies for metabolic disorders based on intense study of the cellular dysfunctions that cause such disorders.
---
Adapted from The Hub. Click here to read the full list of 2018-19 Goldwater Scholars from Johns Hopkins University.